Sleigh Ride by Leroy Anderson: official website, complete reference
February 15, 2021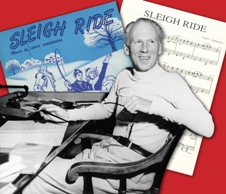 Composition:
Sleigh Ride
Composer:
Leroy Anderson
Copyright:
Sleigh Ride (instrumental)
© 1948 Woodbury Music Company LLC
Sleigh Ride (vocal)
© 1950 Woodbury Music Company LLC
Completed:
February 10, 1948
Instrumentation:
Symphony Orchestra
First Performed:
May 4, 1948, Boston Pops Orchestra, Arthur Fiedler, conductor
First Recording:
April 25, 1949, Boston Pops Orchestra, Arthur Fiedler, conductor [analog monaural]
Recorded by Leroy Anderson:
September 11, 1950 [analog monaural] Decca Records
Length:
3:00
First Stereo Recording:
May 26, 1959, Leroy Anderson, Decca Records
Transcriptions by Leroy Anderson:
Concert Band; Piano
Lyrics:
1950; Mitchell Parish
First Vocal Recording:
1950, The Andrews Sisters

Composer quotes:
"Sleigh Ride" was one of the first things I wrote when I got out of the Army and moved up here to Woodbury, Connecticut. Actually, I first came here in 1946; you may remember there was a housing shortage then, and my mother-in-law was living up here, had a cottage that was vacant, so since we had no other place to go, we packed our 14-month old daughter, plus the upright piano, and came on up here to Woodbury, and during that first summer that we were here, I started "Fiddle-Faddle", I didn't finish that until the following winter, and "Sleigh Ride" and "Serenata". And "Sleigh Ride", I remember, was just an idea because, it was just a pictorial thing, it wasn't necessarily Christmas music, and it was written during the heat wave."
---
Structure:
After the introduction which features the horns, the first part or "A-section" of "Sleigh Ride" starts out with the steady rhythm of sleigh bells set in B♭. The main theme is established by Anderson with a melody that can only be described as cheerful. The second part or "B-section" changes from B♭ to G. Temple blocks create the sound of the horse's hooves through this middle part, which was the music Anderson originally came up with in the summer of 1946. Realizing that it was not strong enough to serve as a beginning, Anderson made this the middle part to "Sleigh Ride" and created the stronger melodic themes that "bracket" the middle section. The middle section is where the whipcrack is introduced. Next Anderson repeats the theme of the first part or "A-section" and introduces a signature "jazz element" featuring the trumpets and trombones. The whipcrack and horse whinny bring the piece to an end. While some orchestral versions omit the whipcrack, possibly because their percussionist does not have one, the horse whinny has become a technique that every student of the trumpet must learn. The horse whinny is also occasionally omitted in some performances and recordings which suffer from the omission. As many times as "Sleigh Ride" is performed, audiences never tire of it. After they receive the downbeat to start together, most orchestras can play "Sleigh Ride" perfectly without a conductor.
Lyrics
Mills Music, Leroy Anderson's publisher in 1949, suggested to Leroy that a lyricist be hired to write lyrics for "Sleigh Ride". Mills thought that lyrics would help to make the piece more popular. Mitchell Parish had written the lyrics for "Stardust" and other songs. He had a reputation for being able to write very good lyrics for an existing composition. Normally a lyricist would collaborate with the composer and often would choose the title. Not in this case.
Leroy was impressed with Mitchell Parish and was satisfied that the lyrics that Parish had written were good. Parish wrote lyrics to numerous other Anderson compositions. The two men became friends in the process. Parish's lyrics certainly contributed to the popularity of "Sleigh Ride". The vocal version has always been much more popular than the instrumental version. Note that Sleigh Ride is not merely a song. There is much more to Sleigh Ride than a strong melody, sleigh bells, whip cracks and a horse whinny. It is a sophisticated composition which is based on classical musical forms.
Comparison between the original symphonic score and all vocal versions
The differences between the original instrumental version and all vocal versions are significant. Leroy Anderson scored "Sleigh Ride" for full orchestra. The complexity of the original composition does not leave room for lyrics. There is "too much music". In vocal versions, the voice(s) sing the melody. Rather than having the vocalist compete with the string instruments, their part is diminished in vocal editions. Once you arrange "Sleigh Ride" for fewer instruments, the composition becomes even more simplistic in structure. You may still love the piece, but the listening experience is not at all the same. The result is that all vocal versions of "Sleigh Ride" are musically simplistic
The same is true of arrangements for smaller ensembles, no matter how well scored or well performed they may be. "Sleigh Ride" has been arranged for band, marching band, concert band, jazz ensemble, piano, piano duet, organ, string quartet, dance orchestra, brass quintet, tuba quartet, handbell choir, flute choir, accordion, ukulele choir, and percussion ensemble, and more,
Lyrics were commissioned by Mills Music to be written in French ("Promenade en traîneau"), Spanish ("Passeo en trineo"), Italian ("Corsa in slitta"), Dutch ("Slee Rit"), Swedish ("Slädfärd på två"), Norwegian ("Sledtur") and Finnish ("Rekiretki"). Since then even more sets of lyrics have been written in Swedish, Finnish and Italian which are not always "literal" translations but which demonstrate respectfully and tastefully the incredible versatility of the composition.
Significant recording
Leroy Anderson conducted a studio orchestra in his May 26, 1959 Stereo recording of "Sleigh Ride" for Decca Records. 53 musicians, many of whom were the Principals of their respective orchestra sections, came to perform for the recording. They were chosen from the New York Philharmonic, the Chamber Music Society of Lincoln Center, the NBC Symphony, the Philadelphia Symphony Orchestra, Chicago Symphony Orchestra, The Goldman Band and the Beaux Arts Trio.
The studio orchestra included 18 violins, 6 violas, 5 celli, 2 basses, 2 flutes, 1 piccolo, 2 oboes, 2 clarinets, 2 bassoons, 4 horns, 3 trumpets, 3 trombones, and 3 drummers. These superb musicians assembled to create the recording of "Sleigh Ride" against which all other recordings are compared. Decca Records (US) was acquired by MCA (Music Corporation of America) which is now part of UMG (Universal Music Publishing Group). This 1959 Decca recording can be heard on the MCA disc titled
"The Best of Leroy Anderson: Sleigh Ride" (MCAD-11710]
.
Popularity:
ASCAP, the American Society of Composers, Authors and Publishers, named
Sleigh Ride
the most popular piece of Christmas music in the USA in 2009, 2010, 2011 and again in 2012. Leroy Anderson's original recording of "Sleigh Ride" was the version most often played in 2010 based on performance data tracked by airplay monitoring service, Mediaguide, from over 2,500 radio stations nationwide. "Sleigh Ride" was aired 174,758 times in 2010, making it the most-played holiday song on radio for the second year in a row. "Sleigh Ride" was played 118,918 times during the same time period in 2009.
In December 2020 ASCAP ranked Sleigh Ride #4 in the USA for 2020.
73 years after Leroy Anderson created Sleigh Ride (1948), the composition is still ranked as one of the 10 most popular pieces of Christmas music worldwide. This is in spite of the fact that the word "Christmas" is never mentioned in the lyrics which Mitchell Parish wrote two years after Anderson finished the composition.
Worldwide Recordings of Sleigh Ride of all Musical Styles:
Over 8,000 (eight thousand) individual recordings of Sleigh Ride have been made worldwide in all styles of music since 1948.
www.discogs.com
Notable Classical Recordings:
Boston Pops Orchestra
Arthur Fiedler
1949
Naxos 8120649
Pops Concert Orchestra
Leroy Anderson
1950
Decca
Boston Pops Orchestra
Arthur Fiedler
1952
RCA Victor Red Seal
7" 45rpm #ERA-63
Eastman-Rochester Pops
Frederick Fennell
1956
Mercury 432013
Pops Concert Orchestra
Leroy Anderson
1959
Decca
"The Best of Leroy Anderson: Sleigh Ride" (MCAD-11710]
Boston Pops Orchestra
Arthur Fiedler
1959
RCA 144665, RCA 61237, RCA 61685, RCA 6428 (1990)
New York Philharmonic
Skitch Henderson
1962
Columbia MS6381
Utah Symphony Orchestra
Maurice Abravanel
1967
Vanguard 1043
Philadelphia Orchestra
Eugene Ormandy
1972
RCA 38128
Boston Pops Orchestra
Arthur Fiedler
1976
DG 419414
Rochester Pops Orchestra
Erich Kunzel
1986
Pro Arte 454
Cincinnati Pops Orchestra
Erich Kunzel
1990
Telarc 80226
Boston Pops Orchestra
John Williams
1992
Sony 48232
St. Louis Symphony Orchestra
Leonard Slatkin
1995
RCA 68048
Lahti Symphony Orchestra
Osmo Vänskä
1998
BIS CD 947
Dallas Symphony Orchestra
Andrew Litton
2000
Delos 3267
Hallé Orchestra
Carl Davis
2003
Hallé 7504
Melbourne Symphony Orchestra
Paul Mann
2003
ABC Classics 476-158
Boston Pops Orchestra
Keith Lockhart
2004
Boston Pops Recordings 2
BBC Concert Orchestra
Leonard Slatkin
2007
Naxos 8559621, Naxos 8559357
Royal Scottish National Orchestra
Christopher Bell
2010
Signum Classics 202
Royal Philharmonic Orchestra
John Rutter
2011
Decca 1609202
Boston Pops Orchestra
Keith Lockhart
2011
BSO Classics1305
Northern Sinfonia
Simon Halsey
2012
Avie 2244
Hallé Orchestra
Mark Elder
2016
Hallé 7545
Linnekvintetten
"Linnaeus Quintet" (en)
"Jul med Linnekvintetten"
2015
Swedish Society Discofil CD #1157
Salzedo Harp Duo
"Clair de Noël"
2020
Azica CD #71332
International Theatre Orchestra
Thomas Hascomb
1962
Hurrah LP #H-1011
London Variety Theatre Orchestra
Thomas Hughes
1959
Saga LP #STM 6020