Leroy Anderson, Conductor
Although Leroy Anderson was known primarily as a composer, he excelled at conducting.
Cambridge High and Latin School (CHLS), 1921 - 1925
During his years in the Cambridge Latin School (administered jointly with the Cambridge High School beginning in February 1911), Leroy Anderson followed "a course of study that had been created for the express purpose of meeting the admission requirements of Harvard University." 1 Anderson studied music at CHLS under John A. Whoriskey who in June of 1923 conducted the school orchestra in the graduating class song which Leroy Anderson had written. Anderson composed a different song for the graduating class in 1924 and again for his own graduation in 1925. He conducted the school orchestra himself. 2 In 1973 his alma mater asked him to conduct the school orchestra in a concert that was recorded. Leroy Anderson led the CHLS orchestra in performing Sandpaper Ballet, Blue Tango, works by Mozart, Bernstein, Haydn, Rossini, Tchaikovsky, Vivaldi and Bordodin. 3
Harvard University, 1925 - 1935
Leroy Anderson became Director of the Harvard University Band in 1929, the year he graduated with a B.A. in Music from Harvard. As a graduate student, Anderson was again named Director from 1931-1935. This position gave him the opportunity to develop his conducting technique even though he had not studied conducting. His conducting repertoire featured many of his own arrangements that he wrote for the band. 4
Raymond Walter Spalding, one of Anderson's music professors at Harvard, wrote in 1935 that "Anderson has a remarkable inborn sense of rhythm and magnetic authority as a conductor." 5 During these years Anderson regularly conducted a dance band at Bostons Ritz Carlton Hotel. Reviews by music critics in Boston newspapers were generally neutral. 6
Boston Pops Orchestra (BPO)
Leroy Anderson had his first major appearance as a conductor on May 12, 1936 when he conducted the Boston Pops Orchestra in Symphony Hall, Boston, Massachusetts. Anderson conducted his arrangements of music from the 1936 Harvard Hasty Pudding Show "The Lids Off" by Newbury '37, Sargent '36, and Bacon '37. 7 From 1935 to 1937 Anderson wrote a total of 38 arrangements for the Hasty Pudding Show (35 for Dance Orchestra and 3 for Voice and Piano). 8
Anderson returned to Symphony Hall on June 16, 1936 when he led the Boston Pops Orchestra in the premiere of Anderson's arrangement "Harvard Fantasy". 9 On May 23, 1938 Anderson conducted the BPO in "Dance of the Buffoons" by Rimsky-Korsakov, "Vienna Life" by Johann Strauss, Jr., and his Harvard Fantasy arrangement. 10 As an encore he conducted the premiere of his first original composition "Jazz Pizzicato". 11
On May 15, 1939 Leroy Anderson conducted at another annual "Harvard Night" concert. He led the BPO in "Die Fledermaus Overture" by Johann Strauss, Jr., the premiere of Anderson's "Harvard Sketches", and "Up the Street" by Morse, arranged by Anderson. Anderson returned on June 20, 1939 to conduct the second performance of his "Harvard Sketches", "Jazz Pizzicato", and "Wintergreen for President" by George Gershwin, arranged by Anderson. 12
In Spring of 1945 Anderson was in the US Army and was assigned to the Department of Military Intelligence at the Pentagon in Washington, D.C. He had written "The Syncopated Clock" and "Promenade" in April of 1945 and sent the two scores to Arthur Fiedler. Fiedler invited Anderson to come to Boston to conduct the premiere of these two pieces. Anderson was granted a leave of absence from the Army for this concert on May 23, 1938 during the annual "Harvard Night at the Pops". 13 He conducted "Die Fledermaus Overture" by Johann Strauss, Jr., Anderson's own compositions "Jazz Pizzicato" and "Jazz Legato", his arrangement "Harvard Fantasy" and "Fair Harvard" by Gilman, arranged by Anderson.14 He then gave "Promenade" and "Syncopated Clock" their first performances. 15
July 3, 1945 Leroy Anderson conducted the "Army Night" concert of the BPO at Symphony Hall. He conducted "Field Artillery March" by Sousa, "Overture to Light Calvery" by von Suppe, Scherzo from "A Midsummer Night's Dream" by Mendelssohn, the Finale from "Symphony No. 4" by Tchaikovsky, "Wine, Woman and Song" waltzes by Johann Strauss, Jr., Anderson's own works "Jazz Pizzicato", "Jazz Legato", "Promenade" and "Salute to Our Fighting Forces" arranged by Bodge. The following year Anderson conducted the BPO on June 27, 1946. He conducted "Blue Danube" by Johann Strauss Jr, Anderson's own compositions "Promenade", "The Syncopated Clock", and "Carousel" by Richard Rodgers, arranged by Anderson.16
May 14, 1947 Leroy Anderson conducted the BPO at Symphony Hall in Anderson's "Harvard Sketches", "Serenata", and "Annie Get Your Gun" by Irving Berlin, arranged by Anderson. Arthur Fiedler had given "Serenata" its first performance 4 nights earlier on May 10, 1947. June 30, 1949 Leroy Anderson conducted the BPO at Symphony Hall in the second and third thirds of the program. He conducted 3 movements of his "Irish Suite", "South Pacific" by Richard Rodgers arranged by Anderson and Anderson's "Sleigh Ride" which Fiedler had premiered a year before.17 "Irish Suite" had been premiered by Fiedler in 1947. Anderson originally wrote four movements in just 12 days before that 1947 concert as a work commissioned by the Eire Society of Boston. He later wrote two more movements which Fiedler premiered in 1949.18
By now a friendly competition between Fiedler and Anderson was beginning. Rather than allow Anderson to give the premiere of each of his compositions with the Boston Pops, Fiedler started to give Anderson's new works their first performances and their first recordings. This, along with the many arrangements Anderson was creating and conducting with the Pops, began to give many observers the impression that Anderson was a staff arranger and composer for Fiedler. This was not the case. Leroy Anderson was always an independent composer and arranger. While Fiedler may have made suggestions to Anderson for works by other composers that Anderson could arrange for the Pops to perform, most of Anderson's work belonged to him. His earliest arrangements for the Harvard Band belong to the Harvard Band, including Anderson's excellent medleys of other schools' football "fight" songs.
Decca Records, 1950 - 1962
Leroy Anderson's composing career took a major step up in 1950 when Decca Records offered Anderson a contract to record his music for Decca. From 1950 to late 1962 Anderson's compositions received their first performances during recording sessions conducted by Anderson. Decca arranged for a studio orchestra for these recording sessions. The musicians were in many cases the "first chair" of their particular section of New York's world famous orchestras.
USA, Canada and Sweden, 1946 - 1975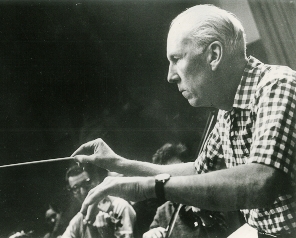 From 1946 to 1975 Leroy Anderson conducted over 70 concerts including the symphony orchestras of Boston, Chicago, Cincinnati, Cleveland, Hartford, Kansas City, New Haven, New Orleans, St. Louis, Stockholm, Toronto, and Washington DC (National Symphony). 19 Anderson would most often conduct the works of other composers during the first half of the performance. These included works by Berlioz, Bizet, Brahms, Chabrier, Elgar, Grieg, Handel, Haydn, Offenbach, Rossini, Schubert, Sibelius, Strauss, Tchaikovsky and Wagner. Anderson would then conduct some of his own compositions during the second half of the program. 20
Many music critics gave generally favorable reviews of Leroy Anderson as conductor. After Anderson gave a concert in 1947 at the Yale Bowl, the New Haven (CT) Register wrote: "Anderson displayed an authoritative beat though his conducting was characterized by a minimum of hand motions and no attempt at showmanship. Mr. Anderson favors slightly accelerated tempos." New Haven Register' music critic Gordon Armstrong described Anderson in 1947 as being a "triple threat in music - arranger, composer, conductor." 21 June 19, 1952 saw Anderson conducting the United States Air Force Band on its 10th anniversary to an audience of 10,000 in front of the US Capitol. 22
After a concert Leroy Anderson conducted with the St. Louis Symphony, music critic Charles Menees wrote "On the podium, he was an impressive conductor with an intelligent approach to everything he played." 23 Edward Ireland observed about Anderson that he "conducted with vigor and fine musicianship in a rousing performance of Sibelius' Finlandia." 24. Edward Ireland also wrote that Anderson "conducts Tchaikovsky with sensitiveness and authority." 25 George W. Stowe wrote "His beat was decisive and his cues right to the point. Obviously he knows what he is doing on the podium." 24 George Weigl wrote that as a conductor, Anderson "inspires each player and out of him gets the utmost, learning his capabilities and shortcomings after the first few measures of the first rehearsal. He knows how to rehearse an orchestra." 27
Some critics were less favorable in their reviews of Anderson's conducting. Arthur Darack wrote that Anderson conducted the Cincinnati Symphony "as though he was going through the motions until he could get to the second half." 28 Edward Brooks wrote about Anderson that as guest conductor "the going wasn't too smooth, technically speaking, for conductor Anderson in the first half of the program." 27 Doris Reno wrote that "Anderson is a music-writer by profession and not a conductor, and when he does conduct, undoubtedly is accustomed to a crack studio ensemble which delivers at the mere flick of a baton, or even without it. Hence his reign over the local ensemble was not tight enough." 30
Although Leroy Anderson enjoyed performing as a guest conductor, he did not accept every invitation to conduct. As he said to his family, "If I had accepted every offer that I received to guest conduct, I would never have had the time I needed to compose music.".