Frequently Asked Questions about Leroy Anderson
American composer of light concert music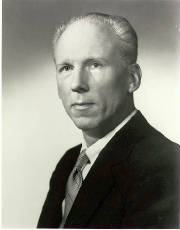 "Who was Leroy Anderson ?"
"Leroy Anderson was a composer of light concert music for symphony orchestra and concert band. He was also an orchestra and band conductor."
~ ~ ~
"When did Leroy Anderson live ?"
"Leroy Anderson lived from 1908 to 1975."
~ ~ ~
"When and where was Leroy Anderson born ?"
"Leroy Anderson was born on June 29, 1908 in Cambridge, Massachusetts."
~ ~ ~
"Who were Leroy Anderson's parents and where did they come from ?"
"Leroy Anderson's father was Bror Anton Anderson; Leroy's mother was Anna Margareta (Johnson) Anderson. Both of Leroy Anderson's parents were born in Sweden."
~ ~ ~
"Who was Leroy Anderson's first music teacher ?"
"Leroy Anderson's mother Anna was his first music teacher. Anna had learned to play piano and organ in Stockholm, Sweden where she was born and raised."
~ ~ ~
"What was Leroy Anderson's first instrument and how old was he when he began to play ?"
"He was five years old when his mother began to teach him to play piano."
~ ~ ~
"Who was Leroy Anderson's second music teacher ?"
"Leroy Anderson's second music teacher was Mr. Floyd Bigelow Dean at the New England Conservatory of Music."
~ ~ ~
"How old was Leroy Anderson when he wrote his first composition ?"
"When Leroy Anderson was 11-years old he wrote a "Minuet for String Quartet". After Professor Chadwick, headmaster at the New England Conservatory of Music, saw the composition, he awarded Leroy Anderson a one-year scholarship to study music theory with his piano teacher, Mr. Floyd Dean."
~ ~ ~
"Where did Leroy Anderson attend school ?"
Leroy Anderson went to Cambridge Grammar School through eighth grade. He attended the public high school in Cambridge which was called Cambridge High and Latin School. Leroy Anderson graduated with High Honors from the Cambridge Latin School in June 1925. Leroy was awarded the "Cambridge Scholarship" to enter Harvard College as Freshman in September 1925. During his Sophomore, Junior and Senior years at Harvard he received the "Borden Scholarship" each year and graduated in June 1929 with a Bachelor of Arts in Music, Magna cum laude. The following year, 1930, he received a Master of Arts in Music from Harvard University.
~ ~ ~
"How many languages did Leroy Anderson know ?"
"Leroy Anderson could read, write and speak:
English, Swedish, Danish, Norwegian, Icelandic, German, French, Italian & Portuguese."

"Leroy Anderson knew many languages ! English was his first language but he also learned Swedish by listening to his parents speak in Swedish at home and at the Swedish church. In high school Leroy Anderson studied Latin, Greek and French. In fact he was President of the French Club. As an undergraduate student at Harvard College and as a graduate student at Harvard University, Leroy formally studied Swedish, Danish, Norwegian, Icelandic (Old Norse) and German. He later added Italian and Portuguese to his list of languages. Although he studied Dutch at home in the 1960's he did not add that language to the list of languages he could read, write and speak."
~ ~ ~
"What are the names of some of Leroy Anderson's best known and most popular compositions ?"
"Sleigh Ride", "Fiddle-Faddle", "Bugler's Holiday", "Blue Tango", "The Typewriter", "The Syncopated Clock", "Trumpeter's Lullaby", "Serenata", and "Belle of the Ball".
~ ~ ~
"What style or type of music did Leroy Anderson write ?"
Leroy Anderson primarily wrote light, instrumental music for symphony orchestra, concert band and other ensembles that is popular throughout the world.
"Since Leroy Anderson wrote most of his compositions for a symphony orchestra, it is certainly 'symphonic music'. His compositions are very melodic. Leroy Anderson was called a 'master of melody' by many music critics. Since many of his compositions create strong visual images in the listener's mind, Leroy Anderson's music is considered 'descriptive' or 'pictorial'. Leroy Anderson himself said that he wrote "concert music with a 'pop' quality". In this case, 'pop' means 'popular'. And most of his compositions are very short in length. Most are under 4 minutes. Since his music is primarily instrumental, meaning 'without lyrics', Leroy Anderson's compositions are easily appreciated in many countries and have become well known throughout the world."
~ ~ ~
"What instruments did Leroy Anderson play ?"
Piano, organ, dounble-bass, trombone, tuba, cello, voice.
Piano
" Leroy Anderson started to learn piano at age 5, 'when my feet could reach the pedals', he said. His mother Anna was his first piano teacher. She had learned to play piano in Stockholm where she had ben raised. Starting at age 10, Leroy studied piano with Professor Floyd Bigelow Dean of the New England Conservatory of Music."
Organ
" Anna Anderson was the organist at the Swedish church in Cambridge. Anna would invite her son Leroy to sit beside her after the church service so that Leroy could learn to play the organ. Leroy later studied with Henry Gideon, the organist at Temple Beth Israel in Boston. As a 15-year old, Leroy became the church organist and choir director at the Congregational Church in nearby East Milton, Massachusetts."
Double-bass
" In High School Leroy took up the double-bass. He was attracted to it size he would later say. The orchestra at the Cambridge Latin School where Leroy Anderson was a student, needed someone to play double-bass so Leroy volunteered. This was the instrument he played in dance bands of the 1930's."
Trombone
" As a Freshman at Harvard, Leroy learned to play the trombone in the Harvard Band. Leroy's father Bror Anderson wanted his son to play the trombone so that Bror would be able to tell people 'see there in the front row, that's my son Leroy.' "
Tuba
" After taking up the tuba, Leroy toured Bremen (Germany), Copenhagen (Denmark), and Stockholm (Sweden) in 1929 as part of a brass quintet of Harvard students called the Harvardians. He also played tuba in 1930 in the orchestra on board the
Helig Olav
, a trans-Atlantic passenger ship of the Norwegian
Skandinavian Line
.
Cello
" After making the transition from performing musician to full-time composer and arranger, Leroy took up the cello and played chamber music with a quartet of his friends every Friday night, September to June, for 10 years - 1963 to 1973." As Leroy Anderson told a reporter once, "It is a great advantage to play a string instrument when writing for the orchestra."
Voice
" As a high school student Leroy, his brother Russell and their father sang in the chorus of numerous operas presented in Boston They were unpaid amateurs who, like all Nordic people, loved to sing. Leroy Anderson was described as having a warm, baritone singing voice. Leroy and his family would often break into song while driving on scenic trips. As an adult church-goer, he would read the hymnal during the pastor's sermon and sing hymns in the car on the way home after church."
~ ~ ~