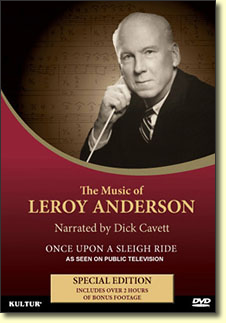 "Once Upon A Sleigh Ride
The Music and Life of Leroy Anderson"
official website
Video Title:
"Once Upon A Sleigh Ride
The Music and Life of Leroy Anderson"
Director:
Peter Rosen
Writer:
Sara Lukinson
Narrator:
Dick Cavett
Producer:
Peter Rosen Productions, Inc.,
SVT Sveriges Television © 2000
Completed:
June 2000
Distribution:
Kultur International Films, Ltd;
Woodbury Music Company LLC
Length:
1:00 Hour
Copyright:
Peter Rosen Productions, Inc.
History
American Masters
After watching an "American Masters" program on PBS about a famous American composer, a son of Leroy Anderson commented to his mother that the program was very well done. Mrs. Anderson agreed. "They should do a program about Dad," remarked the son. "Yes, they should," said Mrs. Anderson. "I will give them a call."
The woman in charge of "American Masters" answered Mrs. Anderson's telephone call and said to her: "We would never produce a program about Leroy Anderson. Your husband does not meet our standards as a serious artist. He is not worthy of American Masters. Besides, who would even be interested in a program about someone like him ?"
When Mrs. Anderson told her son the response from the woman at American Masters, he commented "What a snob. Why don't we just make the video ourselves and offer it to PBS free of charge ? It won't be an 'American Masters' program but we will try to make the video to the same standards as 'American Masters'." "I agree, we should do that."
Produced by Peter Rosen
Three different media provided the answer to the question of who should produce the video about Leroy Anderson.
The first was a video about the finalists of the Van Cliburn Piano Competition. These videos were produced by Peter Rosen. One of Anderson's sons appreciated the excellent narrative and camera work that went into these videos.
The second point of reference was an excellent performance of "Blue Tango" arranged by Canadian arranger Ric Wilkens, performed by Canadian pianist Catherine Wilson and broadcast on CBC Radio. The Anderson family liked the Ric Wilkens/Catherine Wilson recording very much.
The third media point of reference was a Peter Rosen video of Catherine Wilson performing a Chopin nocturne and brodcast on CBC Television which the Anderson family saw and liked.
The Anderson family contacted Peter Rosen who said he would consider the project.
Catherine Wilson was visiting Peter Rosen in New York City. They were discussing an upcoming project for the Canadian Broadcasting Company. On Peter Rosen's piano was a 2-cd set of music by Leroy Anderson. "What a coincidence", Wilson remarked to Peter Rosen. "Why do you have this CD ?"
Narration by Dick Cavett; Interviews with Prominent Artists
Not long after that, an agreement was signed between the Leroy Anderson family and Peter Rosen. The Anderson family wanted Dick Cavett as the narrator of the program. Mr. Cavett agreed and gave the video a classy and warm tone. Included in the video are archival television interviews with Leroy Anderson and archival video footage of Arthur Fiedler, John Williams and Keith Lockhart conducting the Boston Pops Orchestra. New video footage was made of interviews with conductors John Williams, Keith Lockhart, Seiji Ozawa, Skitch Henderson, and Frederick Fennell; trumpeter Roger Voisin, choreographer Mark Morris, members of the Anderson family, actress Elaine Stritch and Broadway producer Robert Whitehead. The culmination of the video includes a portion of Leroy Anderson's "Concerto in C for Piano and Orcestra" performed by Catherine Wilson with members of the Toronto Symphony Orchestra conducted by Skitch Henderson and recorded at Massey Hall in Toronto.
One of the most popular films on PBS
The video was released to PBS for free use in June 2000. The Anderson family made the video about Leroy Anderson available to PBS for 9 years.
"Once Upon A Sleigh Ride" was eventually shown over 1,200 times on over 235 PBS stations and on Swedish Television.
"Once Upon A Sleigh Ride" received a First Place "Gold Camera Award" (United States) at the International Film and Video Festival in 2000.
The program which the woman at American Masters refused to produce was ultimately more popular and shown more times than any other film produced for television about an American artist of any type. PBS reported that only the films by Ken Burns were shown more times than the biographical video about Leroy Anderson - "Once Upon A Sleigh Ride".

The Anderson family hopes that many of the millions of people who enjoy the music of Leroy Anderson will support their local PBS television station. The Anderson family supports PBS.

Purchase the Video Kultur International Films no longer distributes the video about Leroy Anderson. The Anderson family plans to make the video available for purchase again in 2022 through Woodbury Music Company LLC.

Reviews
// A delightful documentary about Anderson, in which we get to know the man as well as his music, through interviews with colleagues and family members, as well as footage of Anderson himself and musicians ranging from Arthur Fiedler to Judy Garland. There doesn't seem to be a place for what used to be considered mainstream music any more and America is the poorer for it. That's why I'm so glad for the release of "Once Upon a Sleigh Ride". Leonard Maltin, television and film critic, June 9, 2001

// I grew up in New York City many, many years ago. Home alone after school music brightened many cold winter days. Leroy Anderson's music became popular at that time and was especially light-hearted and often whimsical, a joy for one little girl. I found this video of his life and his work to be a great homage to a man of special gifts.

At times learning about the behind-the-scenes lives of famous artists can be disheartening - not so in this case. The beauty and charm of the music reflected the beauty and charm of the man.

I highly recommend this video to existing fans, and hopefully to inform new fans. Enjoy! - M., March 19, 2019


---

// Heard "Fiddle-Faddle" on my local classical station and was blown away. Looked him up and realized I already knew some of his music (like "Sleigh Ride"). Bought some recordings and fell in love.

I hate it when his music is classified as "easy listening"; it is anything but. His own description of his work as "light concert music" is much better, but could still be somewhat misleading. He has exuberant music, humorous music, beautiful lyrical music, but the common thread running through all his music is pure, simple joy. The best of his work, when done right, at times expresses an almost violent joy in living that seems to rebel against the very thought that anything else could be important. This is a man for whom suffering seems not to have existed. In short, what's not to like?

Unfortunately, this program does take an "easy listening" approach to Anderson's music to some extent, but there is so much great material here that it's a nearly unmitigated pleasure to watch in any case. The best parts are footage of Anderson himself discussing and performing some of his music. And it's nice to hear his work discussed by other conductors such as Arthur Fiedler, John Williams, and Seiji Ozawa.

There is also a recording of one movement of his piano concerto, which he had withdrawn due to lackluster reviews upon its premier, but which he later commented upon favorably and planned to revise before his death and which his estate re-released. It would have been nice if the entire concerto had been included, at least in the bonus materials, but the other special features are fantastic. There are interviews with the stars of his Broadway musical, Goldilocks, and demo recordings of unused songs, as well as a couple of songs written with Ogden Nash as lyricist for a planned (but never realized) musical based on Gone With the Wind. Some of these are real gems, and the DVD would be worth buying for them alone. - A.R., Feb 19, 2012


---

// The DVD is more than what I had expected. It covers the whole life history and career of Leroy Anderson and how his music is being written and played. Don't expect a concert performance but watching how the sound effects are generated is worth much more than just listening to the music. My understanding of music and connection with a local conservatory of music really open up my mind to the wealth of information contained in the DVD. If you really appreciate good music and the people who present them to you this is the DVD worth having. - L.C.Y., Nov 4, 2013


---

// A well-made piece that's very informative about the man's work but not so forthcoming about the man, himself. One gets the impression that he was a VERY private individual and this film does little to impinge upon his privacy. Some very interesting interview footage as extras. - K., Dec 14, 2013


---

// Great tribute to a fine American composer. Interesting also to learn of Anderson's character; not your typical neurotic/narcisstic artist. - V., Oct 2, 2013


---

// Found this absolutely fascinating. Loved the music! This man should not be forgotten. Recommend this for high school band and orchestra teachers! - S.J.T., Feb 10, 2014


---

// This is a great video! It tells all you ever wanted to know about Leroy Anderson, and makes you want to go out and get a book of his music (I did). I love how it goes through Sleigh Ride, telling about it's creation. Well what do you know, that is the title of the dvd! - L.B.A., March 15, 2011


---

// If you were growing up in the 1940s/50s and 60s, you'll probably remember most of Leroy Anderson's hit songs of the 50s (they seem to refer to it as easy listening music today), but it was a time when music was melodious and catchy and you could at least whistle or hum a pop song. What a wonderful and humble composer he was!

This DVD is exceptional for its content, with lots of archival footage of Arthur Feidler and the Boston Pops, Ed Sullivan Show, and even John Williams. There are excerpts from Leroy Anderson's most memorable tunes as well as some interesting interviews with Anderson's family and his peers. The DVD is presented in full frame 4x3 because the material comes from a time before widescreen TV. For its time, the picture quality is quite good. Some of the audio is mixed in stereo. If you enjoy quality music and want to reminisce about 'happier times,' then this is the program made just for you! Enjoy your trip down memory lane. - M.R.M., Nov. 9, 2006


---

// We know so little about the man who composed music that is so familiar to us! "Sleigh Ride"... "Blue Tango"... "the Syncopated Clock" (the theme for CBS' 'The Late Show' for over 25 years); these are just a few of the pieces that have become such an integral part of our American musical landscape. Finally, here is an entertaining and biographical source on the life and music of Leroy Anderson, the man who is said to have shaped the sound of the Boston Pops.

The documentary begins briefly with a look at the composer's childhood and continues on through his time in the Army when his "Blue Tango" went to #1 on the pop charts. There is rare footage of him on the Ed Sullivan show performing the piece during this period of his life. Also featured is footage of a Boston Pops television special that was dedicated to him. Here we see him conducting and speaking in between the pieces. In addition to this there is rarely seen footage of him in his home in Connecticut and interviews with Mrs. Leroy Anderson, two of his sons, John Williams, Seiji Ozawa, Keith Lockhart, Frederick Fennell and others.

Narrated by Dick Cavett, this is a highly enlightening and endearing portrait of one of America's most famous unknown composers! - Burgess Speed, Nov 30, 2001


---

// Once Upon A Sleigh Ride is a delightful documentary about the great American Composer, Arranger and Musician, Leroy Anderson. His arrangements and compsitions played an important role in the success of the Boston Pops Orchestra and are artistically portrayed in this video.The music Of Leroy Anderson brings joy and happiness to his audiences. This video is a must for all music lovers! - Jane Berkovitz, Jan. 14, 2002




Back to Music of Leroy Anderson
↑ Top of page

Copyright
Copyrights to the music of Leroy Anderson
are held by Woodbury Music Company LLC.
For information concerning the use
of Leroy Anderson's music,
contact the Leroy Anderson family at:
info[at]woodburymusic[dot]com.
Also visit the official website
of the
Leroy Anderson Foundation
established by his family.
SITE MAP


leroyanderson.com