The Golden Years by Leroy Anderson: official website, complete reference
December 21, 2022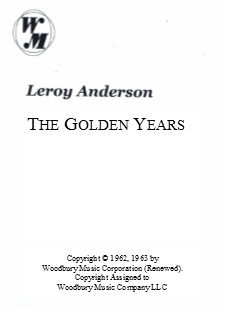 Composition:
"The Golden Years"
Composer:
Leroy Anderson
Copyright:
© 1962, 1963 (Renewed) Woodbury Music Company LLC
Completed:
May 31, 1962
Instrumentation:
(1) String Orchestra, (2) Full Orchestra,
First Performed:
June 19, 1962, Leroy Anderson, during a recording session for Decca Records, New York, New York
First Recording:
June 19, 1962, Leroy Anderson, Decca Records, New York, New York
Length:
3:20
Transcriptions by Leroy Anderson:
Concert Band; Piano;

Notes:
Leroy Anderson composed "The Golden Years" in 1962 in Woodbury, Connecticut. The original scorings were for String Orchestra and Full Orchestra. As with many of his compositions, Anderson later transcribed the work for Concert Band and for solo piano.
---
Significant recording
Leroy Anderson conducted a studio orchestra in his 1962 Stereo recording of "The Golden Years" for Decca Records. 57 musicians, many of whom were the Principals of their respective orchestra sections, came to perform for the recording. They were chosen from the New York Philharmonic, the Chamber Music Society of Lincoln Center, the NBC Symphony, the Philadelphia Symphony Orchestra, Chicago Symphony Orchestra, The Goldman Band and the Beaux Arts Trio.
The studio orchestra included 12 First Violins, 6 Second Violins, 6 Violas, 5 Celli, 2 Basses, 1 Harp, 2 Flutes, 1 Piccolo, 2 Oboes, 4 Clarinets, 2 Bassoons, 4 Horns, 3 Trumpets, 3 Trombones, 3 Drummers and 1 Tuba.

Back to Music of Leroy Anderson

Copyrights to the music of Leroy Anderson
are held by Woodbury Music Company LLC.
For information concerning the use
of Leroy Anderson's music,
contact the Leroy Anderson family at:
info[at]woodburymusic[dot]com.
Also visit the official website
of the
Leroy Anderson Foundation
established by his family.
SITE MAP


leroyanderson.com