Clarinet Candy by Leroy Anderson: official website, complete reference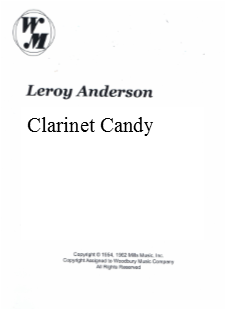 Composition:
"Clarinet Candy"
Composer:
Leroy Anderson
Copyright:
© 1962, 1965 (Renewed) Woodbury Music Company LLC
Completed:
June 16, 1962
Instrumentation:
Full Orchestra, Concert Band
First Performance:
June 19, 1962, Leroy Anderson, during a recording session for Decca Records, New York, New York
First Concert Performance:
June 27, 1965, Leroy Anderson, Miami Beach Philharmonic, Miami Beach Marine Stadium (7,000 people in audience)
Recorded by Leroy Anderson:
1962 Decca Records, New York, New York
Length:
2:45
Published
: 1965
Transcriptions by Leroy Anderson:
Concert Band (1965); (B-flat) Clarinet and Piano; 2 (B-flat) Clarinets and Piano; 4 (B-flat) Clarinets and Piano. (1962)

Notes:
In a 1962 interview, Anderson said: "In writing Clarinet Candy I made full use of the clarinet technique.
"The clarinet is a very versatile instrument. It can do so many things. It has a low register that is completely different from its high register. If you play a note in the low register and one in the high register, it sounds as though they were played by two entirely different instruments. At the same time it is a very flexible instrument. It plays arpeggios very well and runs and trills. Usually an orchestra has two clarinets, first and second. But for this recording I double the number of clarinets - two on first and two on second. In the middle section you will notice that they play a melody - a low note - and then they play a little figure - a high note - and then they go on to the melody. The melody is staccato down below and the fill-ins are taken by the same people who are playing the bottom note. It's an interesting effect."
---
Significant recording
Leroy Anderson conducted a studio orchestra in his 1962 Stereo recording of "Clarinet Candy" for Decca Records. 49 musicians, many of whom were the Principals of their respective orchestra sections, came to perform for the recording. They were chosen from the New York Philharmonic, the Chamber Music Society of Lincoln Center, the NBC Symphony, the Philadelphia Symphony Orchestra, Chicago Symphony Orchestra, The Goldman Band and the Beaux Arts Trio.
The studio orchestra included 10 First Violins, 6 Second Violins, 4 Violas, 4 Celli, 3 Basses, 3 Flutes, 2 Oboes, 4 Clarinets, 2 Bassoons, 4 Horns, 3 Trumpets, 2 Trombones, 3 Drummers and 1 Pianist.
Printed Music


See the Printed Music page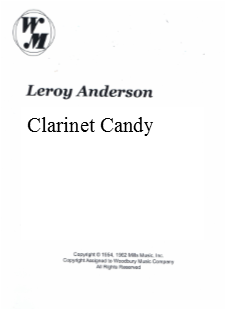 Back to Music of Leroy Anderson
↑ Top of page

Copyright
Copyrights to the music of Leroy Anderson
are held by Woodbury Music Company LLC.
For information concerning the use
of Leroy Anderson's music,
contact the Leroy Anderson family at:
info[at]woodburymusic[dot]com.
Also visit the official website
of the
Leroy Anderson Foundation
established by his family.
SITE MAP


leroyanderson.com