Leroy Anderson - Military Service
Before World War II: Musician and Linguist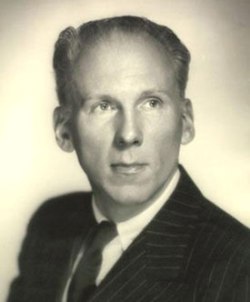 Leroy Anderson was born in Cambridge, Massachusetts in 1908. Both of Leroy's parents were born in Sweden. Leroy and his brother Russell learned Swedish from their parents, Bror Anton Andersson and Anna Margareta Jönsson. In 1912 there were 1,500 Swedes in Cambridge; over 10,000 people who were either Swedish, Danish, Norwegian or Icelandic lived in the towns around Boston. Leroy had a talent for both music and languages. In High School Leroy studied Latin, Greek and French. He was President of the French Club.


Old Norse, Swedish, Danish, Norwegian
Starting in his Freshman year at Harvard, Leroy took courses in Swedish while he was studying for a B.A. in Music. After receiving his Master's in Music from Harvard University, he began to think that it might be difficult to support a family on a musician's salary. So he began to study German and Scandinavian languages at Harvard with the goal of receiving a Doctorate and becoming a language teacher. This was when he studied Old Norse in the 1930s. Over two summers he played tuba in the orchestra on ships of the
Skandinavian Line
sailing between New York and Copenhagen, Göteborg and Oslo, speaking Norwegian, Swedish and Danish with members of the crew. Leroy was offered a job teaching German and Latin at a private school in Pennsylvania. He came close to accepting the position. Arthur Fiedler convinced him to stay with music for at least one more year. "A year from now, if your outlook towards a career in music has not improved, then go ahead and become a language teacher", said Fiedler. Leroy said that it was the best decision he ever made.
WW 2
Iceland
U.S. Counter Intelligence Corps
"It was a privilege to me to live among the Icelandic people."
Leroy Anderson was drafted into the U.S. Army on Aprl 24, 1942. When the Army realized that Leroy had studied Swedish, Danish, Norwegian, Icelandic and German at Harvard University, they assigned him to the U.S. Army Counter Intelligence Corps. Leroy married Eleanor Jane Firke on October 31, 1942 before leaving New York City on a military ship to Iceland. He served as a translator and interpreter starting late in 1942. While in Iceland he wrote an Icelandic Grammar for the U.S. Army.
"Bearing weapons is not my greatest talent."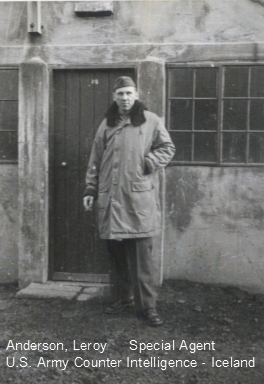 "Because I had studied Old Icelandic for three years at the University I was sent to Iceland as an agent of the Counter Intelligence Corps with the grade of corporal and I was assigned as a translator. Of course, I knew only the language of the sagas and it was necessary to learn the modern vocabulary. So I was told to buy all the books I needed and organize my own course of study. I don't need to say that as an old student I found it very fortunate that my military duties required going back to school instead of carrying a gun. Bearing weapons is not my greatest talent."
"I was assigned to Headquarters in Reykjavik where I had duties translating the Icelandic papers for the G-2 section and to censoring scripts of the Icelandic Broadcasting Company (Ríkisútvarpið (RÚV)) in the interest of military security. I lived in a Nissen hut in Camp Skipten, which was the name of the installation in Skelaverduterg."
"Specifically, a translator was needed to report any comments made in the Icelandic press about the American forces (and especially about the conduct of the troops). Each day I had to select from the newspapers any items that might be of interest to the Army command and see that they were translated into English. There was a group of four Icelanders who were employed as translators, but I had to select the news items that were to be translated and, then correct the English version so that it would be accurate. Sometimes there would be a long article in a paper or periodical that was difficult to render into English and that I would I translate myself."
"It was lucky for me that my duties involved meeting so many Icelanders. I don't remember most of their names, but I remember very well two of the Icelandic translators, þõrdur Einarsson and Hjortur Halldorsson. Einarsson was already advanced in age but was a fine poet. A collection of his poems - Ljód og Lausavísur - was published while I was in Iceland and I asked him to autograph a copy of the book for me. I still have it on my book shelf. Hjortur Halldorsson, I have learned, is now a teacher in Reykjavik." 2
"In addition to working as a translator, I also took turns with a couple of others who could read Icelandic as a censor at the Icelandic Radio Station. It was important that military information should not be broadcast over the radio and the Icelandic government arranged with the military authorities to have the broadcasts checked. In this capacity I met the late Jon Magnusson who was at that time chief of Frettastofan. He has since died. The announcements also had to be checked and I thus met Valgeidur Trygvadottir, who was in charge of Auglysingarstofan. I have just learned on returning to Iceland that Valgeidur has since been married to Dr. Hallgrinuur Halgason. Jon Viali Arnason conducted classes in Icelandic which I attended and certainly all Icelanders know him.
"My only musical activity in Iceland was attending performances of the Bach "St. John Passion" and Haydn's "The Seasons", both given by local church choirs and the Reykjavik orchestra. I seldom thought about music during the war because all my assignments were full-time jobs that took most of my energies."
- Leroy Anderson, 1947 1
Washington DC
The Pentagon, Headquarters G2
"I seldom thought about music during the war because all my assignments were full-time jobs that took most of my energies."
Leroy returned to the USA and graduated from Officer's Candidate School on September 14, 1943. He was assigned to the Pentagon as Chief of the Scandinavian Department of Military Intelligence. He received reports in Danish, Swedish, Norwegian, Icelandic and German from allied agents throughout northern Europe. He would translate the reports to English and prepare a summary of information for the war planners in G2. In particular, Allied forces were preparing to liberate Denmark from German occupation. Leroy Anderson collected information concerning the location and strength of the German military in Denmark. The plan to invade and liberate Denmark from German occupation was never put to use. The German forces which had occupied Denmark and the Netherlands surrendered on May 4, 1945 to British Field Marshal Bernard Montgomery.
As the war in Europe was coming to and end, Leroy Anderson's duties at the Pentagon now allowed him some time to write music. It was in mid-April of 1945 that Anderson wrote "Promenade" and "The Syncopated Clock" in time to give each work their first performance on May 23 in Boston. On a three-day leave of absence, Anderson conducted the Boston Pops Orchestra in Army uniform to an enthusiastic audience.
Soon Leroy was promoted to the rank of Captain. Eleanor Anderson gave birth to their first child, Jane, who was born while the Andersons lived in Arlington, Virginia. Leroy was offered the position of Assistant U.S. Military Attaché to Sweden but declined, deciding that composing was now to be his sole occupation. He was given "terminal leave" on Decemeber 28, 1945 and was released from active duty in the Army on February 24, 1946. He chose to remain in the Army Reserves so as to retain his officer rank of Captain in the event that the U.S. became involved in another war. He was recalled to active duty during the Korean War and received his final discharge in 1952.
He returned to Iceland for a visit in July of 1970. While there he was interviewed by the radio station, and in the interview spoke Icelandic.
"Leroy Anderson is very much remembered in Iceland . In his, probably, last visit to Iceland, I heard him on the radio as he met with old friends and I remember he spoke perfect Icelandic." - S. Thor Bjarnason, Reykjavik, Iceland, June 2001
3
Recognition
Harvard University named Leroy Anderson as a Notable Harvard Military Veteran.

The National Counter Intelligence Corps Association has named Leroy Anderson as a Notable CIC Agent for his service in the US Army Counter Intelligence Corps in Iceland and in the Department of Military Intelligence at the Pentagon during World War II.

The United States National Archives at St. Louis, Missouri has designated Leroy Anderson as a Person of Exceptional Prominence, defined as a "historically significant individual",
Notes
The Leroy Anderson archives were begun and maintained by Leroy Anderson throughout his life. He preserved copies of correspondence and transcripts of interviews he made either in person or remotely. Remote interviews were recorded in New York City in reply to interview questions sent in advance via International Air Mail. Leroy Anderson recorded responses to interview questions in English (for the BBC), in French (National Radio of France), in German (Sud West Funk SWF-Drei, Nord Deutscher Rundfunk and Sender Freies Berlin - Radio Free Berlin), and in Icelandic (Ríkisútvarpi&eth,).
For remote interviews, Leroy Anderson would write answers in English to questions received in some other language. He would then translate and record his answers in the language of the intended audience. The producers in each respective country would build an entirely pre-recorded radio program with introductions by the producer, recordings of Leroy Anderson's music interspersed with Leroy Anderson speaking in the local language - French, German, Icelandic, etc.
For this article we have taken from correspondence between Leroy Anderson and producers at Icelandic Radio in advance of Leroy Anderson's trip to Iceland in July 1970 during which he was interviewed in person. Always reluctant to discuss his intelligence activities during WW II, Leroy Anderson began to talk about his experiences in more detail on the 25th anniversay of the end of WW II in Europe. This article reflects the greater detail of his time in Iceland that he expressed in his Icelandic interviews.
References
Leroy Anderson Foundation Archives
þõrdur Einarsson. Ljód og Lausavísur, Frá Ýmsum Tímum, May 1943, Isafoldarprentsmidja h.f., Reykjavik
Email received from S. Thor Bjarnason, June 2001.