Leroy Anderson Centenary
The Leroy Anderson Family collaborated with numerous organizations around the world to celebrate the Leroy Anderson Centenary in 2008. Many concerts included Anderson's music in tribute to this popular American composer.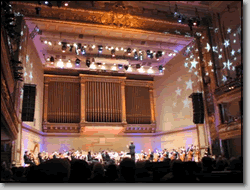 The Boston Pops Orchestra presented a tribute to Leroy Anderson at Symphony Hall in June of 2008. Keith Lockhart conducted several of the composer's pieces after presenting a short film about his life.
The Boston Landmarks Orchestra, under the direction of conductor Charles Ansbacher, performed a September 2008 tribute to Leroy Anderson at the Hatch Shell on the Esplanade in Boston.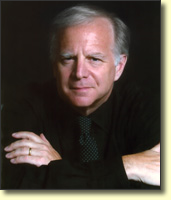 Leonard Slatkin conducted all of Leroy Anderson's works with the BBC Concert Orchestra for the Naxos label in honor of Leroy Anderson's Centenary. The five discs include all of Leroy Anderson's previously published works plus other previously unpublished and/or unrecorded works. They were recorded at The Colosseum, Town Hall, Watford, England and released in 2008. They can be purchased on the Leroy Anderson website's Website Store. Liner notes for all 5 CDs were written by music critic Richard Ginnell.

A special hour-long radio program titled "A Leroy Anderson Christmas Festival" was broadcast on over 300 public radio stations across the USA. The program was hosted by conductor Leonard Slatkin and the composer's son Kurt Anderson. It featured recorded performances of Leroy Anderson's Christmas Music with Leonard Slatkin conducting the BBC Concert Orchestra, and Leroy Anderson conducting his "Pops" Concert Orchestra.

The one-hour documentary film "Once Upon A Sleigh Ride" was broadcast on over 200 PBS television stations across the USA. The program chronicles the life and work of composer Leroy Anderson through interviews with colleagues, family members and others who worked with him, as well as archival and contemporary performances of his works.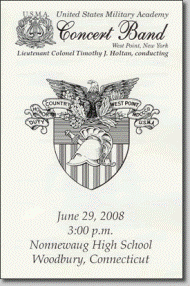 The United States Military Academy Band from West Point, New York performed a "A Tribute to Leroy Anderson" in Anderson's hometown of Woodbury on the composer's birthday, June 29, 2008.
The United States Congress issued a Congressional Certificate of Special Recognition that acknowledged "Leroy Anderson's invaluable contribution to America's music heritage."
Connecticut Governor Jodi Rell recognized Leroy Anderson's significant contribution to American music by declaring June 29, 2008 Leroy Anderson Day in Connecticut.
The U.S. Post Office in Woodbury, Connecticut issued a commemorative postal cancellation designed by Anderson's son-in-law, architect Peter Vercelli. The special cancellation and a commemorative booklet written by Anderson's daughter Jane Anderson Vercelli were available for a month starting on June 28, 2008.
Woodbury First Selectman Paul Hinckley presented a proclamation regarding Anderson's contribution to American music to Mrs. Leroy Anderson at the Woodbury Post Office celebration on June 28. The Waterbury Symphony Orchestra brass quintet played several compositions by Anderson for the audience gathered outside on the lawn.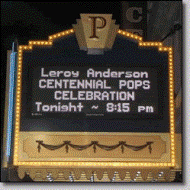 Conductor Leif Bjaland and the Waterbury Symphony Orchestra presented a concert titled "Leroy Anderson Centennial Pops Celebration" at the Palace Theater in Waterbury, Connecticut on May 10, 2008. 1200 people attended this tribute in the city nearest Anderson's hometown of Woodbury, Connecticut.
A Special Exhibit about Leroy Anderson and his music, created by the composer's family was on display for a month in 2008 at both the Woodbury Public Library and the Southbury Public Library. The reception for the opening of the Southbury Library display of the Leroy Anderson exhibit included a performance of Leroy Anderson's music.
The American Swedish Institute brought the special exhibit to Minneapolis where it was presented with other physical memorabilia of Leroy Anderson.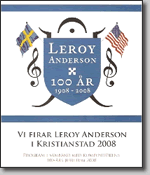 A year-long festival for Leroy Anderson in Kristianstad, Sweden near Leroy's father's birthplace, was the largest celebration for the composer in the world. Several Anderson family members from the U.S. attended a special performance in Kristianstad on April 26, 2008 with over 700 musicians performing Leroy Anderson's music for an audience of 2,000 people.