News & Notes
International
Clayton, Victoria, Australia
with Ingrid Martin conducting and Tom Buchanan as soloist will be performing Leroy Anderson's Piano Concerto in C on Sepetmber 18, 2011
Vietnam
The Vietnam National Symphony Orchestra (VNSO), under the baton of Japanese maestro Tetsuji Honna, toured four major Vietnamese cities from July 7-16, 2011.
The concerts featured music from all-time greats such as Georges Bizet, Johann Strauss and Leroy Anderson and will see the debut of Do Phuong Nhi, a prodigal 13-year-old Vietnamese violinist, who will play a piece written by French composer Saint Saens.
"Toyota Concert Tour Vietnam 2011 aims to encourage young musicians to improve their skills and study hard to become real artists of the future, helping enrich the spirit and culture of Vietnam, said Dang Phan Thu Huong, vice chairwoman of the Toyota Vietnam Foundation.
The concerts took place in Hanoi on July 7-8, Hai Phong on July 10, Hue on July 13 and HCM City on July 16.
London, England
Thomas Trotter one of the finest organ players of his generation performed at St Andrew's United Reformed Church on Wednesday, July 20. His programme includes works by, Bach, Widor and Liszt (Fantasia and Fugue on BACH). He also played some of his own transcriptions of pieces by the popular American composer, Leroy Anderson.
Craiova , Romania
Thomas Pandolfi performed with the Craiova Philharmonic, Romania June 10, 2011.This was the premier of Leroy Anderson's Piano Concerto in C in Romania.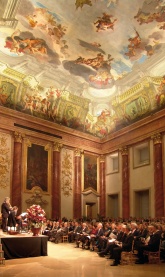 Vienna, Austria
Musicians of the Vienna Philharmonic, the Vienna Symphony Orchestra and the Austrian Radio Symphony Orchestra performed a New Year's Day concert titled "Strauss meets Anderson" (Von Johann Strauss zu Leroy Anderson - Ein musikalisches Abenteue) on January 1, 2011. The concert took place at the Lichtenstein Museum's Hercules Hall, the largest Baroque hall in Vienna. The museum is located at the Lichtenstein Palace in Wien, Östereich. The program included Leroy Anderson's compositions: Fiddle Faddle, The Syncopated Clock, The Waltzing Cat, Blue Tango, Sandpaper Ballet, Sleigh Ride, Plink Plank Plunk, The Typewriter, The Girl in Satin and numerous selections by Strauss.
Eisenach, Germany
On January 4, 2011 conductor Carlos Domínguez-Nieto and the Eisenach Orchestra in Thueringen, Germany, performed Leroy Anderson's Sleigh Ride ("Schlittenfahrt" in German). This was the Eisenach Orchestra's annual holiday concert titled "Neujahrskonzert mit Werken von Leroy Anderson und Astor Piazzolla" ("New Year's Concert with works by Leroy Anderson and Astor Piazzolla"). Next the conductor performed the piano solo part of Leroy Anderson's "Fogotten Dreams". Conductor Carlos Domínguez-Nieto told the audience "Leroy Anderson ist mein Lieblingskomponist !" ("Leroy Anderson is my favorite composer !")
Østfold, Norway
Norway's Østfold Symphony Orchestra (Østfold symfoniorkester, Norge) performed Leroy Anderson's "A Christmas Festival" in December 2010 in two concerts in Fredrikstad Cathedral, Fredrikstad, Norway and in two concerts in Sarpsborg Church, Sarpsborg, Norway.
Reykjavík, Iceland
The Iceland Symphony Orchestra (Sinfóníuhljómsveit Íslands) with conductor Bernharõur Wilkinson performed Leroy Anderson's composition A Christmas Festival (Jólaforleikur) in a performance on December 17 and two performances on December 18, 2010 in Reykjavík, Iceland.
Jalasjä, Finland
The Karelia Brass Band with conductor Tom Bildo, and percussionist Antti Ohenoja presented Leroy Anderson's "The Typewriter" ("Kirjoituskone") in Jalasjä, Finland on September 25, 2010.
Vienna Philharmonic Orchestra
Musicians from Vienna Philharmonic: Vienna Cello Ensemble performed "Plink, Plank, Plunk!" and "Fiddle Faddle" November 25, 2010 at the National Center for the Performing Arts - Concert Hall in Beijing, China.
Zürich, Switzerland
The Tonhalle-Orchester Zürich with conductor David Bruchez-Lalli, and trumpet soloist Philippe Litzler performed Leroy Anderson's "A Trumpeter's Lullaby" on December 12, 2010 at the Tonhalle Grand Concert Hall, Claridenstrasse 7, Zürich, Switzerland.
Sanary sur Mer, France
The "Orchestre La Saint Nazairienne" and conductor Eric Mendez, performed the "Leroy Anderson Medley" in their annual "Concert de la Sainte Cécile" at the Théâtre Galli, Sanary sur Mer, France on December 20, 2010.
Vilafranca del Penedès, Spain
Pau Monfort Pitarch, conductor, and el Unió Musicale de Vilafranca, Vilafranca del Penedès, Spain performed Leroy Anderson's A Christmas Festival on December 23, 2010.
Liège, Belgium
The Liège Youth Symphony Orchestra (l'Orchestre Symphonique des Jeunes de Liège) and conductor Alain Duvivier presented the 26th annual Holiday Pops Concert on December 21, 2010. The concert featured several compositions by Leroy Anderson and took place at the Cathédrale St Paul de Liège, Place St Paul, Liège, Belgium.
Copenhagen, Denmark
The San Francisco Ballet and the Tivoli Symphony Orchestra presented Mark Morris' dance Sandpaper Ballet in Tivoli Gardens, Copenhagen, Denmark. The three performances which took place on August 24, 25 & 26 2010 featured the choreography of Mark Morris set to eight compositions by Leroy Anderson.
The Rødovre Concert Band in Viften, Rødovre, Danmark, presented their Julekoncert on December 20, 2009. Music Director Peter Ettrup Larsen and the band performed Leroy Anderson's Sandpaper Ballet, The Typewriter and Sleigh Ride. Soloists were: Tom Nybye, Magnus Koch Jensen, and Jonas Weber Egholm.
Reto Parolari conducted All-Anderson concerts with the Göttinger Symphonie-Orchester in Germany August 29, September 24, October 2 & 3, 2010.
Stockholm, Sweden
The Respons Sinfonietta in Stockholm, Sweden is a partnership of the Musikhögskolan i Stockholm (Stockholm Music School) and alla Stockholms läns kommunala Musik- och kulturskolor (all Stockholm County Schools of Music and Culture). Music director and cellist Torbjörn Nilsson performed four compositions by Leroy Anderson: Fiddle-Faddle, Bugler's Holiday, The Waltzing Cat and Sleigh Ride in November 2010. The three concerts were in: Vallentuna teater (14 November), Kulturhuset Upplands-Väsby (15 November) and Nybrokajen 11, Stockholm (16 November 2010).
Kristianstad, Sweden
The Kristianstads Harp Ensemble (five harpists) under the direction of harpist Susan Enochsson, performed several compositions by Leroy Anderson at Önnestad Sweden-American Day' in August 2010.
Pärnu, Estonia
The Pärnu City Orchestra (Pärnu Linnaorkester ) performed Leroy Anderson's "Bugler's Holiday" on June 21, 2009 in Pärnu, Estonia. Pärnu Linnaorkestri direktor Kaija Velmet conducted the concert which took place in beautiful Ammende Villa garden. This concert marked the opening of Estonia's Pärnu City Orchestra's summer season.
____________________________
SLEIGH RIDE Tops ASCAP's List of Most-Played Holiday Songs in 2010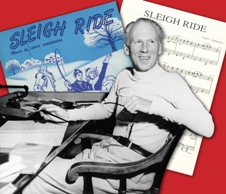 As of December 22, 2010, ASCAP (the American Society of Composers, Authors and Publishers) released its final listing of 2010's most-played holiday songs, based on performance data tracked by airplay monitoring service, Mediaguide, from over 2,500 radio stations nationwide.
From 10/1/10 to 12/19/10, "Sleigh Ride" has aired 174,758 times, making it the most-played holiday song on radio for the second year in a row. "Sleigh Ride" was played 118,918 times during the same time period last year.
Commenting on the news, Mrs. Eleanor Anderson, widow of Leroy Anderson and President of Woodbury Music Company, publisher of many of Mr. Anderson's compositions, said: "Leroy conceived of 'Sleigh Ride' one hot July day in 1946. He was digging trenches in an attempt to locate an abandoned pipe that might bring water to a dried-up well that served our small Connecticut cottage. He didn't find the pipe, but he came in saying he had the idea for a new composition. He thought he would begin it with rhythmic sleigh bells. So, he didn't find the pipe, but he found 'Sleigh Ride' instead. None of us could have guessed that it could just ride on and on, and become the most-played holiday song in 2010."
According to ASCAP, the most popular artist version of Sleigh Ride is Leroy Anderson's own recording with the composer conducting a studio orchestra.
ASCAP also named Sleigh Ride as the third most performed holiday song of the past decade. The data was compiled with the help of Mediaguide, the most comprehensive digital audio performance tracking technology in the world.
"Sleigh Ride" is the only holiday song on the list written originally as an instrumental piece for a symphony orchestra. The Boston Pops Orchestra gave the first performance in a concert conducted by Arthur Fiedler at Symphony Hall in Boston, May 4, 1948. Mills Music published it that same year. The Boston Pops Orchestra recorded it in June of 1949. Mitchell Parish added lyrics in 1949.
To learn more about when and where Leroy Anderson wrote Sleigh Ride, visit the official website of the Leroy Anderson Foundation established by his family.
---
Photos and Videos
for your Concert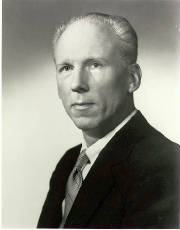 High resolution photos and special video material are available to assist in the promotion and presentation of concerts featuring Leroy Anderson's music. For detailed information go to Photos page.
---
New Published Music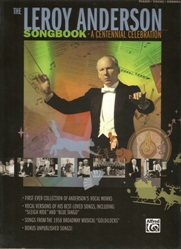 New editions of Leroy Anderson's music have been published for orchestra, band and piano, including some works that are being made available for the first time. These can be found on the Published Music page on this website.
---
US Postal Service Commemorative Stamp
for LEROY ANDERSON

Citizens' Stamp Advisory Committee Seeks Input from Public
Your help is needed! The U.S. Postal Service issues commemorative stamps each year to honor American citizens. The Postal Service has yet to recognize Leroy Anderson, a composer whose music has touched the lives of millions of people.
Please write a letter in support of the proposal to issue a stamp in honor of Leroy Anderson. Address your letter to:
USPS STAMP DEVELOPMENT
ATTN: CITIZEN'S STAMP ADVISORY COMMITTEE
1735 NORTH LYNN ST STE 5013,
ARLINGTON VA 22209-6432
It is important, too, to ask your Senators and Representatives in Congress for their support of this proposal, and to urge them to write the Citizen's Stamp Advisory Committee.
The stamp committee would be appreciative if you would send a copy of your letter to the Leroy Anderson Stamp Committee, P.O. Box 447, Woodbury, CT 06798.
Thank you!
---
United States
Woodbury, Connecticut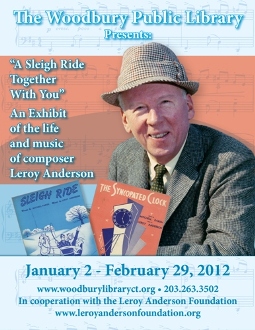 "A Sleigh Ride Together with You"
The Life & Music of Leroy Anderson
The Woodbury Public Library presents an exhibit about composer Leroy Anderson in cooperation with the Leroy Anderson Foundation. The exhibit is on display for the months of January and February 2012. There will be a reception on Saturday, January 21, 2012 at 2 pm. Rolf Anderson, a son of the composer, will speak and present a short video about Leroy Anderson. The exhibit and the reception are open to the public free of charge.
January + February 2012
Kennett Square, Pennsylvania
Enjoy an evening of American music classics with "Summer Pops" featuring the music of Leroy Anderson. Fountains and fireworks dance to Anderson's most loved work, including Blue Tango, The Syncopated Clock, Promenade, Sleigh Ride and our fantastic finale, Home Stretch.
July 23 and September 3, 2011
Corvallis, Oregon
Lots of Leroy (Anderson) Director Steve Matthes,Featuring Jim Douglass, trumpet, sponsored by Mike & Alice Foster.
Tuesday, 8 PM, August 16 - Central Park
Leroy Anderson in Concert
This hour long special radio program features Leroy Anderson, America's most popular light music composer, conducting and commenting about his many musical hits, including Bugler's Holiday, The Syncopated Clock and Blue Tango and 8 others from a 1972 concert with the United States Air Force Band in Washington, D.C. Also heard is Leroy Anderson conducting three of his works with the Purdue University Symphonic Band.
Leroy Anderson in Concert is produced and hosted by Kurt Anderson, the composer's son. Kurt said in the program that "This concert perfectly captures the musical wit and personal charm of Leroy Anderson since, except for the opening work, he introduces each of his compositions."
This program was broadcast on 178 radio stations in 30 states and also in Australia in July 2011. These included the cities of San Francisco, Dallas, Atlanta, Philadelphia, Cleveland, Salt Lake City. In New York state 16 stations broadcast the program and in Pennsylvania 25 stations.
Leroy Anderson conducted his following compositions/arrangements:
The Captains and the Kings- The United State Air Force Band, A Trumpeter's Lullaby - The United State Air Force Band, Belle of the Ball - The United State Air Force Band, The Phantom Regiment - The United State Air Force Band, Serenata - The United State Air Force Band, Clarinet Candy - The United State Air Force Band, The Irish Washerwoman- The Purdue University Symphonic Band, The Girl I Left Behind Me- The Purdue University Symphonic Band, Horse and Buggy- The Purdue University Symphonic Band, The Syncopated Clock - The United State Air Force Band, Bugler's Holiday - The United State Air Force Band, The Waltzing Cat- The United State Air Force Band, Home Stretch - The United State Air Force Band, Blue Tango - The United State Air Force Band
The last work heard was an arrangement that Leroy Anderson made as a gift for Arthur Fiedler. 76 Trombones from The Music Man by Meredith Willson. Since Leroy Anderson never conducted this work it is performed with Kurt Anderson conducting The United States Coast Guard Band.
Leroy Anderson in Concert is made possible by the Leroy Anderson Foundation. It is the fourth nationally distributed public radio program on the music of Leroy Anderson that has been aired since 1999.
The Germantown, Wisconsin
The Germantown Community Band begins its 13th concert season with a free concert on Wednesday, July 6, at 7 p.m. at Firemen's Park in Germantown, Wisconson.Titled "John, Leroy and the Boys," the show will feature the 75-member ensemble performing the music of John Philip Sousa and Leroy Anderson.
Durango, Colorado
Pops Night, Benefit Dinner and Concert July 20, 2011. Carl Topilow and the Festival Orchestra will perform Blue Tango, Sandpaper Ballet, Clarinet Candy, Bugler's Holiday and The Syncopated Clock
Berkeley, California
Music Appreciation Class discussion and performance "Leroy Anderson: American's Master of Light Music". June 23 1:30 P.M. Mastick Senior Center.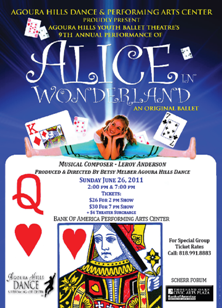 Agoura Hills Dance presented Alice in Wonderland, an original ballet set to the music of Leroy Anderson. The performance was on Sunday, June 26, 2011 @ 2 PM & 7 PM at the Bank of America Performing Arts Center in Thousand Oaks, California. The ballet is produced and directed by Betsy Melber of Agoura Hills Dance.
World-renowned pianist, Jeffrey Biegel and award-winning composer, Kenneth Fuchs join conductor Aaron Collins and the Space Coast Symphony Orchestra in a concert that will thrilled Central Florida residents. The concert opened with Fuchs' joyous and ecstatic United Artists, a work written for the London Symphony Orchestra. Biegel, whose electrifying technique and mesmerizing touch have received critical acclaim and praise worldwide, performed Keith Emerson's Piano Concerto No. 1 as well as Leroy Anderson's recently resurrected Piano Concerto in C. A number of Leroy Anderson's works round out the concert, including Promenade, Clarinet Candy, Serenata, and several special surprises.Merrit Island and Vero Beach, Florida June 25 & 26, 2011.
Sunday, June 19, 2011 The Tri-County Symphonic Band presents: The 9th Annual Benefit Pops Concert & Dinner entitled "The Music of Leroy Anderson and John Williams" The Tri-County Symphonic Band's selections included a variety of selections from composers Leroy Anderson and John Williams as they explored the repertoire of the Boston Pops Orchestra. The Grand Tent adjacent to the Fireman Performing Arts Center Tabor Academy 235 Front St. Marion, MA
Cambridge, Massachusetts
The Harvard Band played works arranged by Leroy Anderson when he was at student at Harvard, Harvardiana and Fair Harvard, during their commencement on May 26, 2011. These pieces have been part of their repertoire since Mr. Anderson arranged them in 1929.
The Alfred University Division of Performing Arts presented the AU Symphony Orchestra together with the Wellsville Performing Arts Orchestra in a spring concert in the new Miller Theater on the AU campus.The concert featured American songs, including Leroy Anderson's "Pirate Dance" and "The Syncopated Clock." Alfred, New York Saturday, May 1,2011.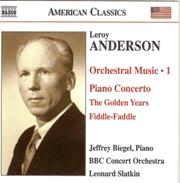 Leonard Slatkin conducted all of Leroy Anderson's works with the BBC Concert Orchestra for the Naxos label in honor of Leroy Anderson's Centenary. The five discs include all of Leroy Anderson's previously published works plus other previously unpublished and/or unrecorded works. They were recorded at The Colosseum, Town Hall, Watford, England and released in 2008. They can be purchased on the Leroy Anderson website's Website Store. Liner notes for all 5 CDs were written by music critic Richard Ginnell.
"Leroy Anderson is one of the great bridges of American music, a musician who tore down the wall between the so-called "serious" music and so-called "popular" music. He introduced millions of people to the sounds a symphony orchestra can make painlessly, with consumate taste and an ear for whimsy." - Richard S. Ginnell, Los Angeles, California
Cleveland, Ohio
The Cleveland Orchestra presented their annual Christmas Concert nine times in 2010, on December 10-12 and December 17-19. Conductor Robert Porco led the Cleveland Orchestra, the Cleveland Orchestra Chorus and the Cleveland State University Chorale at Cleveland's Severance Hall. The program included several works by Leroy Anderson including: Sleigh Ride and three of Anderson's arrangements of traditional Christmas music from his Suite of Carols for Strings. The selections were In dulci jubilo, O Little Town of Bethlehem and Patapan.
Music of stage and screen decorate this holiday season "Pops" concert. Michael Chertock, our guest pianist, was spotlighted in several short works He played the sole Piano Concerto by the great "Pops" composer Leroy Anderson. Richmond, Indiana December 5, 2010.
Itzhak Perlman to join Nashville Symphony for grand reopening of Schermerhorn Symphony Center December 31, 2010. Will be performing "The Syncopated Clock", "Blue Tango" and "Plink, Plank, Plunk!".
An "All-Anderson" concert of Leroy Anderson's music titled "Fiddle Faddle!: The Music of Leroy Anderson," was presented by Orchestra Kentucky on January 10, 2011 at Van Meter Hall on Western Kentucky University's Campus in Bowling Green, Kentucky.
Keith Lockhart and the Boston Pops' gave a free concert on Boston Common September 26, 2010. The concert included a musical tribute to Leroy Anderson, featuring several of Anderson's compositions: Sleigh Ride, The Syncopated Clock and Fiddle-Faddle.
Chautauqua Symphony Orchestra, New York
Kevin Cole performed Leroy Anderson's "Piano Concerto in C" with the Chautauqua Symphony Orchestra as part of their big July 4th weekend celebration, Saturday, July 3, 2010.
Houston Ballet, Houston, Texas
The Houston Ballet performed Mark Morris' choreography "Sandpaper Ballet" set to eight of Leroy Anderson's compositions. The performances on May 27 - June 6, 2010 in Houston, Texas were the second year this popular work was performed in Houston.
Leroy Anderson Named
to Scandinavian Hall of Fame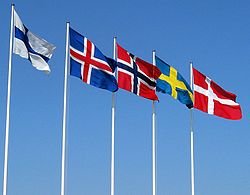 The Scandinavian American Cultural and Historical Foundation (SACHF) elected Leroy Anderson to the Scandinavian Hall of Fame in Thousand Oaks, California on February 12, 2011.
The mission of the SACHF is to preserve and promote Scandinavian heritage and culture for the education and enjoyment of past and present generations. The organization envisions becoming the center for Scandinavian culture in the Southwestern United States.
The goals of the SACHF include:
Provide a major museum and library for Scandinavian artifacts, exhibits, books and arts.
Serve as a center for Scandinavian heritage and genealogy research.
Organize, promote and publicize programs, classes and events related to Scandinavian heritage.
Honor and recognize achievements of Scandinavian Americans.
Develop a children's interactive program that encourages knowledge and appreciation of Scandinavia and of the immigrant experience.
The SACHF is located at the corner of Mountclef Boulevard and Faculty Road, adjacent to the California Lutheran University campus.
For more information, contact:
Scandinavian Center
26 Faculty Road
Thousand Oaks CA 91360
(805) 241-0391
scancenter@callutheran.edu
---
Canada
Vancouver, Canada
As part of the Vancouver Island Symphony's tribute to the BSO titled "Celebrating 125 years of the Boston Pops", conductor Pierre Simard and the VIO performed "A Leroy Anderson Portrait," an arrangment of some of Leroy Anderson's best know compositions. The two concerts took place on November 20 and 21, 2010 at the The Port Theater, Nanaimo, Vancouver Island, British Columbia, Canada.
Northumberland, Ontario, Canada
The Northumberland Symphony Orchestra performed Leroy Anderson's The Irish Suite at The Concert Hall at Victoria Hall in West Cobourg, Ontario on January 29, 2011.
Brian Barber will perform Leroy Anderson's Concerto in C for Piano and Orchestra with Laura Thomas conducting the Niagara Symphony Orchestra on February 27, 2011.
The Niagara Symphony Orchestra and Guest Conductor Gregory Burton presented a "Tribute to the Boston Pops" on October 25 and 26, 2009 at the Sean O'Sullivan Theatre, Brock University, Ontario, Canada. The program included several compositions by Leroy Anderson including Chicken Reel, Governor Bradford March, First Day of Spring, Clarinet Candy, and The Girl in Satin.
---