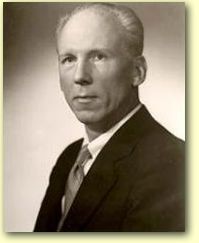 Leroy Anderson (1908 - 1975)
American composer of light concert music
Swedish Parents
Leroy Anderson was born on June 29, 1908 in Cambridge, Massachusetts. His parents were Swedish immigrants who had come to the United States as children. They lived at 269 Norfolk Street in Cambridge. His father, Bror Anton Anderson (B.A. Anderson), came from Övarp, Norra Strö, near Kristianstad in the province of Skåne. Bror worked as a postal clerk at the Central Square post office in Cambridge and played the mandolin. He changed the spelling of his first name to Brewer, the pronunciation of which was similar to his Swedish name - Bror. Leroy's mother, Anna Margareta (Jönsson) Anderson, came from Stockholm. Anna was an organist at the Swedish Mission Church in Cambridge. Brewer Anderson and Anna Jönsson (now Johnson) met at the Swedish Mission Church and were married there in 1907. Leroy was born in 1908. Brewer and Anna Anderson moved from Norfolk Street to 12 Chatham Street when Leroy was one year old. Another son, Russell Brewer Anderson, was born in 1911. Cambridge would continue to be the center of Leroy Anderson's world for the next three decades.
Leroy Anderson lived at 12 Chatham Street with his parents and brother Russell from 1909 until 1936, when he moved to New York City. "We were a musical family," Leroy said. "My father played the mandolin, mother played the guitar and I accompanied them on the piano. Those were happy evenings doing Gilbert and Sullivan, 'Drink to Me Only with Thine Eyes' and all the other songs in 'The Golden Songbook.' Radio was in the earphone stage then and we had to make our own entertainment."

The Anderson family attended the Swedish Mission Church in Cambridge which Anna Anderson's father Bengt Johnson had helped to establish. Brewer Anderson and his brother Nils Olof Anderson (N.O. Anderson) had built the three-story home at 12 Chatham Street where Bror and Anna lived with their children Leroy and Russell. N.O. Anderson went on to create a successful business building homes in Belmont, Watertown and Lexington, Massachusetts. Leroy's grandfather Bengt Johnson had built fine furniture in Stockholm before emigrating to Massachusetts. In Cambridge Bengt worked for the Ivers and Pond Company building piano cases decorated with detailed carvings. With a grandfather who made fine furniture and an uncle who built houses, it is no wonder that later in life Leroy Anderson enjoyed woodworking as a hobby. Leroy built his own desk, wood working bench, cabinets and numerous custom projects for his children.

Leroy often returned to 12 Chatham Street where his parents continued to live. It was at this house that he arranged many Broadway show tunes for Arthur Fiedler and the Boston Pops Orchestra, and where he composed his Irish Suite in eleven days.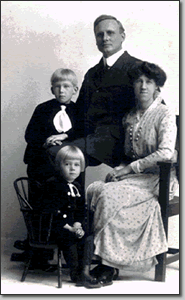 Leroy's mother Anna gave Leroy his first piano lessons starting at age five, "as soon as his feet could reach the pedals." One day Anna and Brewer heard Leroy playing a song on the piano quite well. However it was a song that Anna had not taught her son to play. When asked how he knew this song, Leroy replied "it's just something I heard." Brewer and Anna Anderson discussed their son's increasingly apparent musical talent and decided that Leroy should have professional music lessons. Floyd Bigelow Dean of the New England Conservatory of Music was engaged to give Leroy private piano lessons in 1919 when Leroy was 11 years old.

"My first composition was a minuet for string Quartet which I wrote at the age of 12. I showed it to my piano teacher at the New England Conservatory of Music, Floyd Bigelow Dean, and he took it to George W. Chadwick, who was then the director of the Conservatory. As a result I received a year's scholarship to study music harmony with Mr. Dean."
Leroy said that he received all his education on one street - Broadway, Cambridge. He attended Harvard Grammar School, at the corner of Harvard Street and Broadway. In 1921 he entered Cambridge High and Latin School (now Cambridge Rindge and Latin School) as a Freshmen. The Latin School (once also called the Cambridge Classical School) was located at the corner of Broadway and Trowbridge Streets. During his years in the Cambridge Latin School (administered jointly with the Cambridge High School beginning in February 1911), Leroy Anderson followed "a course of study that had been created for the express purpose of meeting the admission requirements of Harvard University." Leroy was an honors student. While Leroy had learned to speak Swedish at home as a young boy, at CHLS he studied and mastered Latin under his teacher Cecil Thayer Derry and French, becoming president of the French Club.
Leroy was at CHLS when his father Brewer Anderson bought him a trombone so that Leroy would have to play in the front row of the Harvard University Band. B.A. Anderson wanted to be sure that his son Leroy would be easy to see while he marched in the band at Harvard football games. Leroy studied music at CHLS under John A. Whoriskey. Leroy belonged to the Glee Club, the Mandolin Club and played trombone in the school orchestra. Whoriskey needed a double-bass player and convinced Leroy to take the instrument home for the weekend to practice. When Anderson returned to school on the following Monday, he played the double bass so well that one would have thought he had practiced all year. At Whoriskey's suggestion Leroy wrote a song for the graduating class of 1923. Whoriskey appointed Anderson as leader of the school orchestra that year. Anderson composed a different song for the graduating class in 1924 and again for his own graduation in 1925. He conducted the school orchestra himself each time.
1926 - 1930 Harvard Years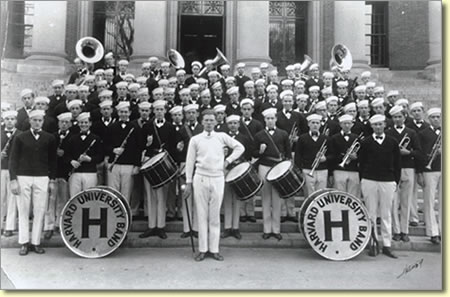 At Harvard Leroy studied musical harmony with Walter Spalding, counterpoint with Edward Ballantine, canon and fugue with William C. Heilman, and orchestration with Edward B. Hill and Walter Piston. Leroy received a B.A., Magna cum laude in 1929 and was elected to Phi Beta Kappa. He earned an M.A., Music in 1930. In Harvard University Graduate School, he studied composition with Walter Piston and Georges Enesco; organ with Henry Gideon and double bass with Gaston Dufresne of the Boston Symphony Orchestra.
He continued his studies at Harvard through the early 1930's working toward a PhD in German and Scandinavian languages (Swedish, Danish, Norwegian, Icelandic and Old Norse), while working as a music tutor at Radcliffe College. A gifted linguist, Leroy eventually mastered Danish, Norwegian, Icelandic, German, French, Italian, and Portuguese in addition to the English and Swedish of his upbringing. Not thinking that a career in music held much promise, Anderson intended to become a language teacher. He applied for and was offered a position at a private school in Pennsylvania. At the last moment he decided to give music a final try and sent his regrets to the school in Pennsylvania. This turned out to be a pivotal decision for him.
1931 - 1939 Boston Pops Orchestra arranger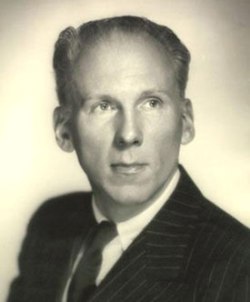 As a graduate student Leroy became Director of the Harvard University Band and wrote numerous clever arrangements for the band that brought him to the attention of Arthur Fiedler, Director of the Boston Pops Orchestra. His first arrangement for Fiedler in 1936 was a medley of Harvard songs - Harvard Fantasy. In 1938 the Boston Pops performed his first composition, Jazz Pizzicato. It was an immediate hit. Fiedler encouraged him to write original compositions for the orchestra. Leroy wrote Jazz Legato in 1939. This was followed by a succession of his now famous delightful miniatures. Arthur Fiedler and the Boston Pops Orchestra were the first to perform and record many of these compositions.
During the 1930's, Leroy worked as an arranger for popular dance orchestras, alongside his brother, Russell, who played double bass. Together, they played in the orchestra on the Hellig Olav of the Copenhagen-based ship company Skandinavia Linje crossing between New York and Scandinavia in 1930. 1 Leroy said that he enjoyed making use of his fluency in Scandinavian languages by conversing with the crew who came from Norway, Denmark and Sweden.

(Note: 1. Earlier versions of this page stated that Leroy Anderson and his brother Russell played in the orchestra aboard cruise ships of the Norwegian Line in 1930 and 1931. Further research in the Leroy Anderson archives shows that the ship was the Hellig Olav owned by the Danish ship company Skandinavia Linje. Leroy spent the summer of 1930 playing in the orchestra on passenger ships of the Skandinavia Linje, crossing from New York to Oslo and back by way of Copenhagen.)
"While taking graduate courses in German and the Scandinavian languages preparatory to a career teaching languages, I was playing in and conducting orchestras part time in and around Boston. One Spring after a performance of the Hasty Pudding Show which I had conducted, Mr. George Judd, the manager of the Boston Symphony Orchestra, came up to speak to me. He said he had heard my arrangements played by the Harvard Band at the Stadium football games and asked me to make a symphonic setting of Harvard songs for the 25th reunion of his class and to conduct the number at the class special night at the Pops. Thus I met Mr. Fiedler, who conducted the concert except for the "Harvard Fantasy", to which he listened off-stage. After the concert I went to the librarian's office and found Mr. Fiedler examining my score intently "This is very good", he said. "I'm glad to find someone who has ideas and knows how to orchestrate". Then he urged me to write more for the Pops concerts, especially original compositions, and promised to perform my music if he thought it suitable."
"After the "Harvard Fantasy" I wrote two more numbers for Harvard Night at the Pops: a selection of the Hasty Pudding Show tunes written by undergraduates, and "Harvard Sketches", a set of original pieces describing the "Lowell House Bells", a "Freshman in Harvard Square", the "Widener Reading Room", and the "Class Day Confetti Battle". Meanwhile I had thought of writing a number for the strings in which the players lay down their bows and pluck the strings throughout in the style of Delibes' "Pizzicato Polka" -- but in modern jazz idiom. Mr. Fiedler thought the idea a good one and worth trying. The result was "Jazz Pizzicato", which has been played for several seasons at the Pops. After Mr. Fiedler recorded "Jazz Pizzicato" its popularity spread rapidly throughout the country." - L.A., 1947; Leroy Anderson Archives.
1940 - 1945 WW II - Military Intelligence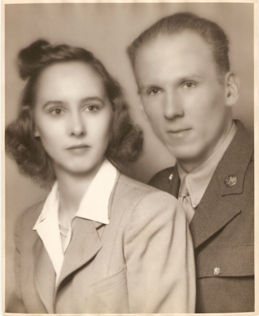 At the start of World War II Leroy was drafted as a private into the U.S. Army, which made use of his fluency in languages. He married Eleanor Jane Firke before shipping off to Iceland where he served as a translator and interpreter in the U.S. Army Counter Intelligence Corps, beginning in 1942. While there he wrote an Icelandic Grammar for the U.S. Army.

"I was sent to
Iceland
as an agent of the
Counter Intelligence Corps
with the grade of corporal and, since I knew Icelandic, was assigned to translating the Icelandic papers for the G-2 section and to censoring scripts of the
Icelandic Broadcasting Company (Ríkisútvarpið (RÚV))
in the interest of military security. Because I knew Icelandic I was assigned to Headquarters in Reykjavik where I had duties involving contact with the Icelandic population. My only musical activity in Iceland was attending performances of the Bach "St. John Passion" and Haydn's "The Seasons", both given by local church choirs and the Reykjavik orchestra. I seldom thought about music during the war because all my assignments were full-time jobs that took most of my energies." - L.A., 1947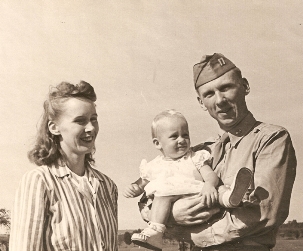 Leroy returned to the USA and graduated from Officer's Candidate School in 1943. He was assigned to the Pentagon as Chief of the Scandinavian Department of Military Intelligence. Anderson wrote Promenade and The Syncopated Clock in 1945. Leroy sent the manuscripts to Arthur Fiedler for him to use in rehearsal with the Boston Pops Orchestra. Leroy then travelled to Boston to conduct the Boston Pops in the premieres of The Syncopated Clock and Promenade. Soon Leroy was promoted to the rank of Captain. Eleanor Anderson gave birth to their first child, Jane, who was born while the Andersons lived in Arlington, Virginia. Leroy was offered the position of U.S. Military Attaché to Sweden but declined, deciding that composing was now to be his sole occupation. He was released from active duty in the Army in 1946. The Andersons next moved to New York City. Their son Eric was born here.
1946 - 1952 International Success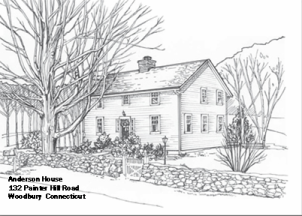 The Andersons spent the summer of 1946 at Painter Hill in Woodbury, Connecticut. It was here that he started Sleigh Ride during a heat wave, first conceiving of the middle section. After the summer of 1946 was over, Leroy and Eleanor moved to New York City where they lived at 19 Parade Place in Brooklyn in an apartment that had been rented by Eleanor's uncle who had recently died. Leroy Anderson completed Sleigh Ride here in February of 1948. Arthur Fiedler conducted the premiere of Sleigh Ride with the Boston Pops Orchestra's in May of 1948. By December of 1948 New York City department stores were playing Sleigh Ride.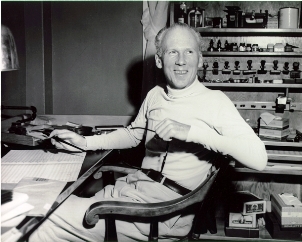 Two years later the Andersons settled in Woodbury permanently, first living with Eleanor's mother in a home on Painter Hill Road where Leroy put his carpentry skills to work by builing a desk and cabinet for himself (see photo). Sons Rolf and Kurt were born in the early 1950s. Leroy and Eleanor hired architect Joseph Stein to create a modernist home for the growing family. The Andersons moved into their new home at Grassy Hill in Woodbury in October 1953. The Andersons furnished the house with Danish modern furniture. Wanting to ensure a quiet environment in which to orchestrate, Leroy had his work room sound-proofed with extra insulation in the walls. "Yes, I guess you could call it splendid isolation. It's the kind of place a composer needs. In my youth I lived in a Brooklyn apartment and tried to write music while the girl upstairs took turns practicing voice and piano. I was never sure which of her musical aspirations was more frustrating to my work."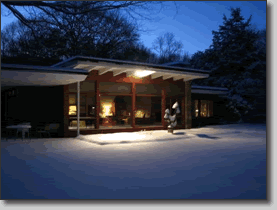 During these years at Grassy Hill in Woodbury, Anderson wrote many of his best-loved compositions, among them Blue Tango, The Typewriter, Serenata, Belle of the Ball, Bugler's Holiday and Forgotten Dreams. Sleigh Ride was slowly growing in popularity, not only in the USA and Canada, but also in Europe. While the music remained unchanged, Leroy allowed translations of the lyrics or new lyrics to Sleigh Ride to be created in French (La Promenade en Traineau), Italian, Dutch, German, Swedish (two versions - Släd färd på två and Jingeling-Tingeling) and Finnish (Rekiretki). Orchestras in such diverse places as Reykjavik, Iceland, Stockholm, Sweden, Lahti, Finland, Geneva, Switzerland, Liege, Belgium, in England, France, Russia, and Japan - all perform Sleigh Ride and Anderson's A Christmas Festival each winter.
Leroy formed a string quartet with violinists George Weigl, Dr. Joe James and violist Irma Holst. Leroy played cello and led the ensemble in performances of classical standards in the large living room at Grassy Hill. With Anderson and Dr. James living in Woodbury and Weigl and Holst living in Southbury, the group decided on the name Southwood Quartet. Having played double bass, trombone and tuba during high school and college, Leroy now played the cello beautifully with the quartet. As he told a reporter once, "It is a great advantage to play a string instrument when writing for the orchestra. There is nothing like the feel of the bow. It is also advantageous to know how to play a wind instrument. Then you know how to control the breath."
Arthur Fiedler continued to premier Leroy's works including Sleigh Ride, Fiddle-Faddle and Trumpeter's Lullaby, until 1950. After that Leroy conducted the premieres of his works when he recorded them for Decca Records. Among these pieces were Belle of the Ball, Blue Tango, Bugler's Holiday, Forgotten Dreams, Horse and Buggy, Plink, Plank, Plunk!, Serenata, The Typewriter and Waltzing Cat. It was his own recording of Blue Tango that made #1 on the Hit Parade of 1952. The popularity of Leroy Anderson's music was rapidly spreading around the world. By 1952 Leroy had established himself as the pre-eminent American composer of light concert music.
1953 - 1959 Piano Concerto and Musical Theater
Though Leroy primarily utilized the medium of "orchestral miniature", he also experimented with the longer form in his most ambitious work - Concerto in C major for Piano and Orchestra in three movements - Allegro moderato, Anadante and Allegro vivo. It received its premiere on July 18, 1953 in Chicago by the Grant Park Symphony with Anderson as conductor and Eugene List as soloist. Anderson conducted another performance of the concerto in Cleveland in 1954. After mixed reviews he withdrew the composition with intentions to revise it. He later remarked that he thought the composition had great merit but that it could be slightly improved. Although he never got around to making the intended changes, the Anderson family released the work posthumously (unrevised) in 1988. The Concerto in C has been recorded by Erich Kunzel and the Cincinnati Pops with Stewart Goodyear, pianist,; Leonard Slatkin and the BBC Concert Orchestra with Jeffrey Biegl, pianist; Skitch Henderson and members of the Toronto Symphony Orchestra with Catherine Wilson, pianist; Paul Mann and the Melbourne Symphony Orchestra with Simon Tedeschi, pianist. It is now performed many times around the world each year.
He wrote Goldilocks, his only musical, with Walter and Jean Kerr. It opened October 11, 1958 in New York City. While the story was criticized as being weak, critics praised Anderson's score.
1960 - 1969 Television and Guest Conducting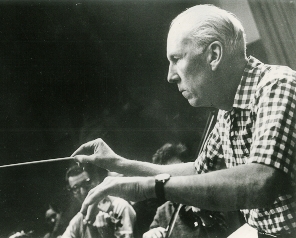 Over the years, Leroy's pieces have been employed as themes in both radio and television. In the early 1950's, CBS-TV Channel 2 in NYC chose The Syncopated Clock as the theme for its program of movies called"The Late Show". CBS used it for more than 25 years. Plink, Plank, Plunk! was known to many in the '50's as the theme for the TV game show "I've Got a Secret", and The Typewriter has become a favorite for a variety of radio news productions.
During these years Leroy often took his family to New York to see Broadway shows and to visit the sites of the city he and his wife had come to know. In 1968 the Andersons spent the summer in Europe where the composer introduced his children to a continent where he fit right in. Back home in Woodbury he was an active member of St. Paul's Episcopal Church which the family regularly attended. He guest-conducted orchestras throughout the United States, Canada and Sweden. In the late 1960s Leroy served on the boards of the New Haven and Hartford Symphonies and also as acting manager of the Waterbury Symphony Orchestra.
1970 - 1975 Recognition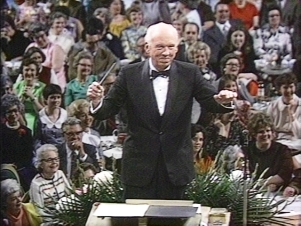 In 1972 the Boston Pops Orchestra paid tribute to Leroy in a televised concert that was broadcast nationwide. Leroy appeared on the program and guest-conducted one piece. It was, as he said to his wife Eleanor, "the most important evening of my life." Leroy returned to Cambridge the following year to conduct the orchestra at Cambridge Rindge and Latin School in 1973. Anderson continued to compose and to conduct his music throughout North America until his death from cancer in 1975.
1976 - 2006 Honors and Tributes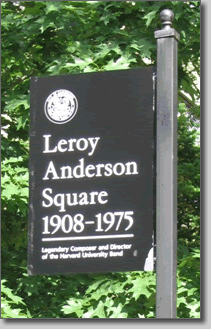 Leroy Anderson received a star on the Hollywood Walk of Fame in 1976 at 1620 Vine Street for his contribution to the recording industry.
Leroy was elected posthumously to the Songwriters Hall of Fame in 1988.
In 1995 Harvard University named its new Harvard University Band headquarters the Anderson Band Center in honor of Leroy Anderson.
Cambridge, Massachusetts Mayor Michael Sullivan and the Cambridge City Council dedicated the corner of Chatham and Crawford Streets as Leroy Anderson Square on May 31, 2003. Mayor Sullivan said in part that the naming of Leroy Anderson Square was "in honor of one of America's greatest composers of light music and the most inventive arranger for the Boston Pops."
In the June 9, 2003 edition of The Boston Globe, Richard Dyer wrote about the naming of Leroy Anderson Square:

"Dignitaries, neighbors, and passersby at the intersection of Crawford and Chatham streets gathered, along with the composer's widow, Eleanor, and her children and grandchildren as Mayor Michael A. Sullivan addressed the crowd, which was also serenaded by members of the Harvard University Band under Thomas Everett. Anderson was conductor of the Harvard Band when the ingenuity of his arrangements attracted the attention of Pops conductor Arthur Fiedler."

Speaking at the dedication, Boston Pops conductor Keith Lockhart said, "The voice of Leroy Anderson became the voice of the Boston Pops in its dual commitment to approachability and to excellence."

Also at the dedication, composer and former Boston Pops conductor John Williams said "He was an American original. Leroy Anderson is one of the great American masters of light orchestral music. Though we have performed his works countless times over the years at the Boston Pops, his music remains forever as young and fresh as the very first day on which it was composed."
Leroy Anderson's grave is in Woodbury's New North Cemetery.
2007 - 2009 Leroy Anderson Centenary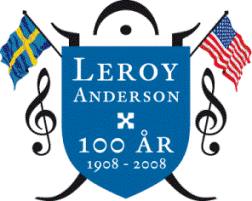 During the Leroy Anderson Centenary, orchestras throughout the world performed tribute concerts during the 2007-2009 concert seasons which celebrated the composer's musical legacy. The Boston Pops Orchestra presented a tribute to Leroy Anderson at Symphony Hall in June of 2008. Keith Lockhart conducted several of the composer's pieces after presenting a short film about his life. The Boston Landmarks Orchestra, under the direction of conductor Charles Ansbacher, performed a September 2008 tribute to Leroy Anderson at the Hatch Shell on the Esplanade in Boston. The United States Military Academy Band from West Point, New York performed a "A Tribute to Leroy Anderson" in Anderson's hometown of Woodbury on the composer's birthday, June 29, 2008.

Conductor Leonard Slatkin recorded all of Leroy Anderson's compositions with the BBC Concert Orchestra which were released on five CDs by Naxos Records. In September 2006 Kultur released the biographical video "Once Upon a Sleigh Ride" on DVD with additional material not on the original VHS tape. The Yale University Music Library honored the Leroy Anderson Centenary with a special exhibit. The American Swedish Institute brought the special exhibit to Minneapolis where it was presented with other physical memorabilia of Leroy Anderson. The reception for the opening of the American Swedish Institute exhibition about Leroy Anderson included a performance of Leroy Anderson's music. A year-long festival for Leroy Anderson in Kristianstad, Sweden near Leroy's father's birthplace, was the largest celebration for the composer in the world. Several Anderson family members from the USA attended a special performance in Kristianstad on April 26, 2008 with over 700 musicians performing Leroy Anderson's music for an audience of 2,000 people.
The Legacy of Leroy Anderson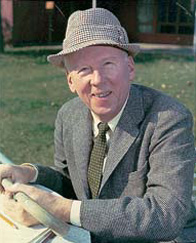 The music of Leroy Anderson is firmly entrenched in American popular culture and is enjoyed by millions of people throughout the world. His music continues to be extensively recorded and performed by a wide range of musicians. Among them are symphony orchestras, concert and marching bands, classical and jazz ensembles, vocalists of many styles, virtuosi of almost every instrument as well as music students of all ages.
Anderson's music is frequently used to entertain visiting dignitaries at the White House as well as to greet U.S. Presidents when visiting foreign countries. Its use by radio and television as background music for commercials and theme music for many programs ensures Anderson's music remains familiar with each new generation. More than 50 years after Anderson wrote many of his compositions, in the words of John Williams, composer and laureate conductor of the Boston Pops - "Anderson's music remains as young and fresh as the very day on which it was composed."
Forty years after Leroy Anderson's death, his music has taken on a timeless quality. "It's hard to imagine that someone actually wrote Sleigh Ride," remarked one listener. "It's as though it came from the ether. Sleigh Ride is one of those pieces of music that seems as though it has always been around; just another wonderful part of everyday life." It is safe to say that somewhere in the world someone is either performing or listening to Leroy Anderson's music every moment of every day.
Anderson sensed during his later years that the music he wrote had achieved an identity and a popularity that surpassed his own fame as the composer. At the time he was probably right. In recent years however, the awareness of Leroy Anderson has increased dramatically. This is due in part to new recordings of his music, re-releases of Anderson's original recordings on compact disc, numerous concerts of his works, a PBS video about him broadcast to millions each year since 1999, a book about the composer, and to this website.
The National Park Service in Washington, DC announced on January 11, 2013 that the Leroy Anderson House1 in Woodbury, Connecticut has been named to the National Register of Historic Places. The listing became effective on December 31, 2012. The house qualified under two criteria: as an example of a mid-20th century modernist home; and as the place where American composer Leroy Anderson lived and wrote much of his music which has become part of the standard repertoire for orchestra and band throughout the world.
1 (NPS NRHP Property ID #12000361)